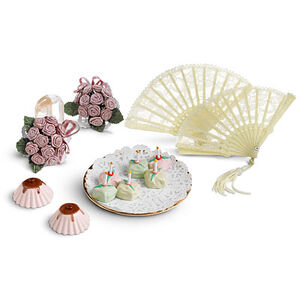 Samantha's Party Treats were introduced to Samantha's Collection in 1987 and retired in 2008 with Samantha's archival. It is associated with Happy Birthday, Samantha!. Retail cost was $26 and later increased to $28 and $29.
Petit Fours
Platter
White porcelain round plate. Gold trim at edges.
Doily
Ice Cream
Two bombes glacée. Pink ice cream with red cherry toppings.
Fans
Nosegays
Trivia
Early versions of this set were produced by Silvestri, a company that makes collectibles. These versions have a Silvestri sticker on the bottom and a stem extending from the cherry on the ice cream. By 1988 or 1989, these sets were made by Pleasant Company instead and had PC stickers.