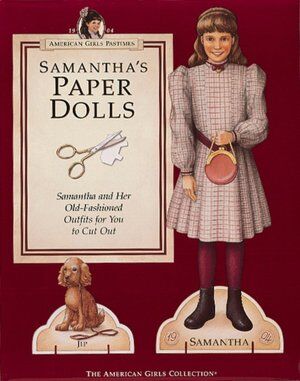 Samantha's Paper Dolls I was a set of paper dolls focusing on Samantha Parkington. It was released in 1991, and was also part of Samantha's Pastimes before being retired in 2000.
Outfits and Accessories Represented
Samantha is dressed in her Lacy Whites, minus the stockings.
Afternoon Tea Dress (includes maroon hair bow)
Gingerbread Man
Frilly White Frock[1] with Lacy Collar
Flower-Trimmed Hat
Tea Tray
Cranberry Party Dress (collar is separate)
Paper Snowflake
Samantha's Present
Present
Trivia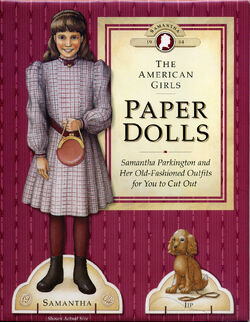 The first edition of Samantha's Paper Dolls had a vertical ribbon pattern on the envelope and accessory envelope.
See also
References