This article is about the BeForever version of the outfit. For the the original Pleasant Company/Mattel version, see Samantha's Nightgown.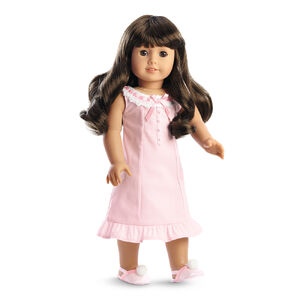 Samantha's Nightgown was introduced to Samantha's Collection in 2014 and retired in 2020. Retail cost was $24.
Nightgown
Sleeveless pink nightgown with princess seams. White lace collar at the neck with a pink ribbon running through, tying as a bow in the middle. Matching pink ruffle at the hem.
Slippers
Simple pink slippers with an elastic strap in the back, and white pom poms with a darker pink trim.
Child-sized clothing inspired by Samantha's Nightgown was available:
Ribbons and Bows Pajamas: $42
Pom-Pom Slippers: $22