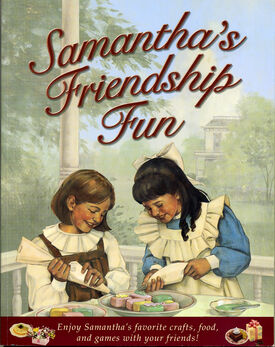 Samantha's Friendship Fun was a craft and cook book that focused on Samantha Parkington.
Book Contents
Tips and Facts
General Tips
Cooking Tips
Crafting Tips
Sewing Tips
Samantha's Life and Times
Afternoon Calls
Pay a Proper Call
The Latest Frills
Calling Cards
Fancy Fan
Jelly Biscuits
Petit Fours
Chicken Salad Sandwiches
Cream Cheese and Walnut Sandwiches
Lemon Ice
Sunday Brunch
Flower Basket
Stand-Up Napkins
Blueberry Muffins
Saratoga Potatoes
Brunch Punch
Sunday Ham
Strawberries with Cream
Cheesy Omelette
Valentine's Day Fun
Sweet Heart Cookies
Victorian Valentines
Apple Valentines
Heart-Shaped Sachet
Trinket Box
February Fun: I Sent My Love a Valentine; Valentine Queen; Pin the Heart on the Valentine
A Piney Point Adventure
Paint an Impression
Seashell Picture Frame
Pressed Flower Bookmark
Soap Bubbles
Make a Bug Collection
Glass Paperweight
Leaf-Print Wrapping Paper
Nut Crunch Apples
Piney Point Games: Hop and Stick; Plum Pudding
By the Fireside
Silhouettes
Ice Cream Snowballs
Toss Pillows
Candy Crystals
Gingerbread
Fireside Games: Twine the Garland; I Am a Gold Lock; Get Shocked!; Tableaux Vivants
Want to Know More?
Read Books Set in Samantha's Time
Listen to Music of the Early 1900s
Watch Movies Set in Samantha's Time
Visit Museums About Samantha's Era
Trivia
See Also