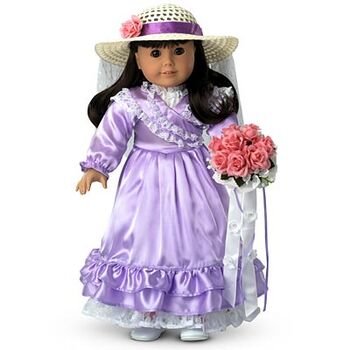 Samantha's Bridesmaid Dress was introduced to Samantha's Collection in 2004 and retired in 2008 with Samantha's archival. It is associated with the movie Samantha: An American Girl Holiday. It was paired with Samantha's Bridesmaid Accessories. Retail cost was $26.
Dress
Lilac colored ankle length satin-polyester dress. Wrist length sleeves. Ruffles at hem. White attached underskirt. White lace trim at front, collar, and underskirt. Velcros up the back.
Hat
White open-weave hat with a pink rose, lavender ribbon, and white lace veil. Flower matches the bouquet.
Bouquet
Pink rose bouquet with white lace. Bouquet also includes dark leaves, small white flowers, and baby's breath. Two white ribbons extend from the bouquet with white faux flowers on them. Two thin lilac ribbons also extend from it. Bouquet has elastic so Samantha can hold it.
Trivia
This is not the outfit Samantha wears in the original publication of Samantha Saves the Wedding and is not very much associated to it; in there she is wearing a pink dress. This is also not a Short Story outfit.
This dress has a full-length adult skirt, not the shorter skirt length Samantha and other Edwardian children typically wore. Samantha would have worn the long skirt because it was a special occasion.