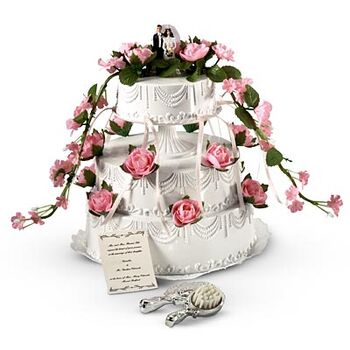 Samantha's Bridesmaid Accessories was introduced to Samantha's Collection in 2004 and retired in 2008 with Samantha's archival. It is associated with Samantha: An American Girl Holiday and paired with Samantha's Bridesmaid Dress. Retail cost was $18.
Wedding Cake
White wedding cake decorated with pink roses and vine. Slots in the cake allow the ribbons of the charms to be attached. Bride and groom toppers on top of cake.
Wedding Invitation
White wedding invitation. Text reads:
"Mr. and Mrs. Horace Pitt
request the honor of your presence
at the marriage of their daughter
Cornelia
to
Gardner Edwards at the home of Mrs. Mary Edwards


Mount Bedford"
Charms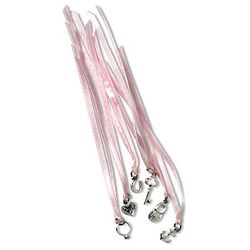 Six different charms (ring, heart, horseshoe, key, baby shoe, and anchor) attached to individual pale pink ribbons.
Mirror
Silver hand mirror.
Hairbrush
Silver hairbrush.
Trivia