This article is about the Mattel version of the outfit. For the Beforever version, see Samantha's Bicycling Outfit (BeForever).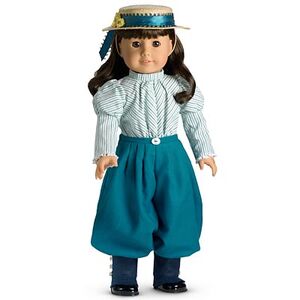 Samantha's Bicycling Outfit was introduced to Samantha's Collection in 2006 and retired in 2008. Retail cost was $26.
Blouse
Blue diagonal striped high neck blouse. Wrist length leg o'mutton sleeves. It is intended to be tucked into the bloomers.
Bloomers
Calf-length aqua-blue bloomers. Small white buckle on the front waist.
Hat
Straw boater hat with an aqua ribbon and yellow flowers. There is an elastic strap to keep the hat on Samantha's head; the flowers should be displayed on the right side.
Gaiters
Dark blue gaiters that fasten around Samantha's lower legs to "protect" her shoes and stockings.
Trivia