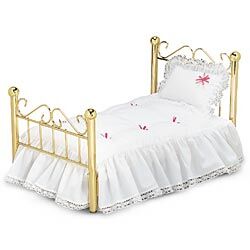 Samantha's Bed was introduced to Samantha's Collection in 1986 and retired in 2008 with Samantha's archival. Retail cost was $64 and later increased to $68.
Bed Frame
Three-piece brass bed frame. Headboard and footboard pieces are identical save their height; both have two thick bedposts topped with molded spherical knobs, spaced apart by two narrow horizontal brass bars. Between these are five vertical evenly spaced narrow brass bars; these are longer for the headboard than the footboard. The upper horizontal bar is topped with two brass curlicues that mirror each other, forming a shape at the center resembling the top of a heart. The third piece, also of narrow brass bars, is the mattress supporter, which slots into small tubes attached to the headboard and the footboard. This allows for easy assembly and disassembly of the bed.
Mattress
Cotton tufted mattress. Cream color.
Bedspread
White tufted bedspread. Gathered, lace trimmed ruffles along both long sides and one short side (the latter is to be slotted through a gap in the footboard). Lining of bedspread is same cream color as mattress, ruffles are unlined. Small rosette bows of narrow pink ribbon at each tufting.
Pillow
White doll-sized pillow. Wide lace trim around all four edges. Rosette bow of narrow pink ribbon at one corner; this is slightly larger than those on the bedspread.
See Also
Community content is available under
CC-BY-SA
unless otherwise noted.