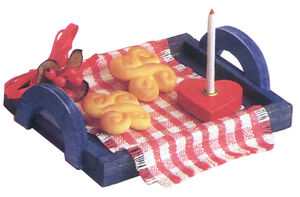 The Saint Lucia Tray was introduced to Kirsten's Collection in 1986 and retired in 2007. It is associated with the book Kirsten's Surprise. Retail cost was $14 and later increased to $16.
Tray
Blue wooden tray with upright handles.
Candleholder
Wooden red heart-shaped candleholder.
Candle
White wooden candle with red painted tip. Candle can fit in candleholder.
Cloth
Red and white checked cloth with fringe.
Bouquet
Sprig of greenery with red berries in center. Tied with a red ribbon.
Buns
Two Saint Lucia buns.
Variations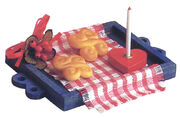 The original version of the tray had flat handles and was retired in 1994. The second version of the tray, with the upright handles, was released in 1995.