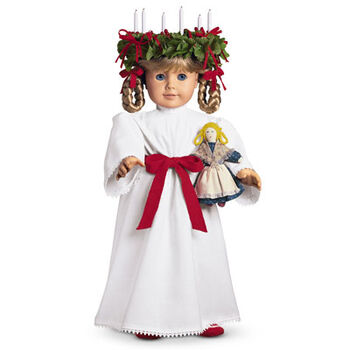 The Saint Lucia Gown (also called Kirsten's Holiday Gown) was introduced to Kirsten's Collection in 1986 and retired in 2009 with Kirsten's archival. It is associated with the book Kirsten's Surprise. Retail cost was $18 and later increased to $22 and $24.
Gown
White full-length long sleeved gown. Lace trim. Attached red woven sash.
Ribbons
Two red woven hair ribbons.
Stockings
Red and white striped stockings.
The matching outfit was available as the Saint Lucia Dress for $80; it was phased out around 2000.
The dress was also sold as the Easter Dress. It came with light blue and red ribbons that could be switched for Easter or Christmas.
The Easter Basket had ribbons that matched the Easter Dress and was sold for $26.
The Lacy Knee Socks were available for $8.