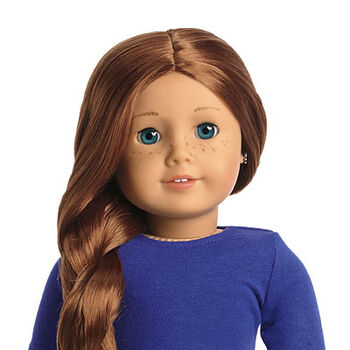 The Saige Copeland doll was released in 2013 and was available for only one year before retirement. She was considered the Girl of the Year for 2013.
Saige Doll
There are freckles across her cheeks and to either side of her nose.
Hair: Wavy, dark auburn, center part, no bangs
Saige came with her hair in a loose two-lock twist.
Meet Outfit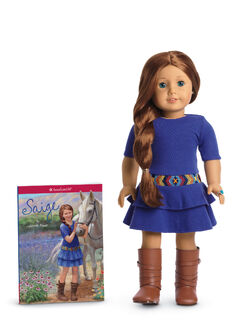 Dress
Dark indigo stretch knit one-piece dress. Rounded neckline. Short sleeves. Integrated woven-style embroidered belt. Double skirt. Velcros up the back.
Boots
Dark tan boots. Four decorative straps around top of boot; top strap has sewn in place decorative silver buckle. Brown plastic sole. Velcro up the back.
Ring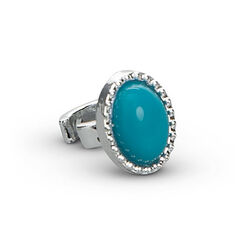 Silver plastic ring; decorative curves around center. Smooth faux "turquoise" cabochon stone in center. Ring designed to fit around doll's pointer finger. In Saige Paints the Sky, this turquoise spoon ring is a birthday gift from Saige's best friend Tessa, since turquoise is supposed to bring good luck to horse riders.
Earrings
Silver plastic seven-point abstract post earrings.
Panties
Plain light blue elastic panties.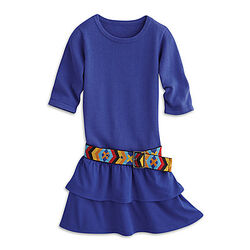 Saige's Dress and Belt was available for a cost of $54; the integrated belt on the doll's dress was made separate on the children's sized outfit.
Trivia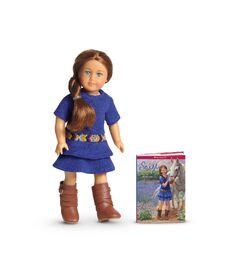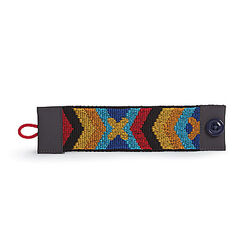 Saige was the first Girl of the Year doll to come with pierced ears; they were the default and the doll did not come without the option to have non-pierced ears.
A mini doll of Saige was released in July 2013; it was only sold in bookstores and third-party merchant sites. The mini doll was never made available for sale directly through American Girl. She was the first Girl of the Year to have a mini doll.
A children's bracelet sharing the same design as Saige's belt was made available as Saige's Woven Bracelet for the cost of $5 on the website, however, it was never sold as part of the Dress Like Your Doll outfit.
See Also
References
↑

These were marketed as "Turquoise" and are a slightly different shade than other blue eyes released.