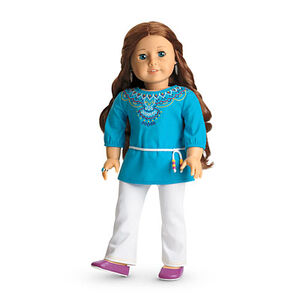 Saige's Tunic Outfit is part of Saige's Collection and, like her, was retired at the end of 2013. The retail cost was $28.
Tunic
Bright turquoise hip-length tunic. 3/4 length sleeves with elastic casings. Detailed embroidery at front neckline reaching onto shoulders: design is a combination of scallops, zigzags, and stripes in white, green, purple, and blue. White knotted cord belt (non-removable) around waist. Ends of cord are adorned with red and yellow beads.
Pants
Simple white denim jeans. Full length. Elastic at back waistband.
Shoes
Simple magenta flats. White soles.
Trivia
Saige's Tunic Outfit was briefly sold as the Tunic Outfit for the My American Girl line in 2014 for a price of $22.