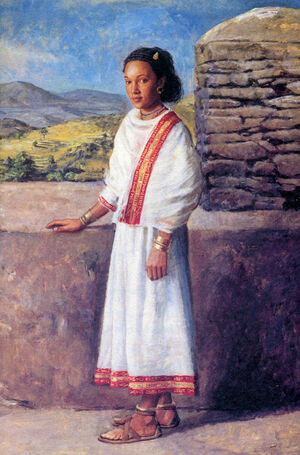 Saba was one of the Girls of Many Lands, representing Ethiopia during the Age of Judges in 1846. Saba was released in 2003 along with Leyla and Kathleen. She is the primary character of Saba: Under the Hyena's Foot.
Personality and Facts
Saba is twelve years old during the events of her story. She is very responsible and trustworthy. She has great respect for her elders, and tries hard to behave, though sometimes, she says and does things she regrets. Saba has a strong love and connection, with her family and risks much to help her brother, Mesfin, and grandmother, Emama. She is not very brave, but through the book, Saba finds herself becoming stronger and braver. Saba appreciates the little things in life, preferring her old worn sandals to fine slippers because they were the first shoes given to her, and they were given to her out of kindness. Despite Saba's lack of courage, she can be quite clever. Saba is also very spiritual and looks to the church in her palace for guidance and comfort.
Book
Saba: Under the Hyena's Foot by Jane Kurtz.
Doll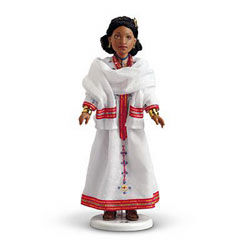 The Saba doll was intended for display only. Her dark brown hair came in a cornrow braided style with loose African curls and she had brown eyes. The components of her outfit were:
Sheer white cotton trimmed dress with attached underskirt; embroidered ribbon at cuffs, hem, and down front and neckline; decorated with red, blue, and yellow embroidery at front and cuffs
Sheer white cotton and ribbon trimmed shawl (shamma)
Leather sandals (berabaso)
Gold bangles
Gold ankle bracelets
Gold loop earrings
Gold decorative hair pin
Beaded necklace
Silver cross on blue cord necklace
Community content is available under
CC-BY-SA
unless otherwise noted.