"Ruthie" redirects here. For the doll, see Ruthie Smithens (doll).
Ruthie Smithens was the fifth Best Friend released; she is the "Best Friend" of Kit Kittredge.
In May 2014 American Girl announced that they would archive Ruthie's entire collection in preparation for the BeForever revamp; she and her collection were later archived in June 2014. Ruthie's book remained available for purchase.
Personality and Facts
Ruthie is Kit's best friend; it is unknown when the two girls met but it was sometime before the events in Meet Kit as the Kittredges have been a client in the bank that Ruthie's father works in. She loves princesses and movie stars; she is depicted as an avid reader of fairy tales (including the Color Fairy Books and Grimm's Fairy Tales). She also helps write pieces for Kit's homemade newspaper, the Hard Times News; she mostly talks as Kit types.
Unlike Kit, Ruthie's family is not financially affected by the Depression (her father works at a bank); this allows Ruthie to continue paid hobbies such as dance, tennis, and horseback riding lessons. Her family can still take vacations and she can still go to the movies easily. The Smithens have many times offered help to the Kittredges but mostly in ways that don't hurt their pride. Ruthie has an idealized worldview; due to this, she sometimes hurts and offends Kit by trying to help in not-so-tactful ways. Ruthie is fascinated with Kit's house, and how exciting it is with the variety of boarders in contrast to the quiet of her own house as an only child. She was even at one point jealous of Kit's new life as being busy, interesting, and more exciting than her own. Ruthie had noticed that people relied on Kit more and this made her seem more grown-up, which was conclusive in Kit's Surprise.
Despite their major differences Ruthie is a loyal and courageous friend who will go to great lengths to help Kit.
American Girl characterizes her as "compassionate" and "romantic."
Family and Friends
Family
Ruthie is their only child.
Friends
Ruthie's two closest friends are Kit Kittredge and later Stirling Howard.
See also Kit's Family and Friends
Book
Ruthie plays a prominent role in all of Kit's stories and the short stories Kit's Tree House, Kit's Winning Ways, and Kit Uses Her Head.
She also has a prominent role in Missing Grace and Intruders at Rivermead Manor.
She is played by Madison Davenport.
Doll
Main article: Ruthie Smithens (doll)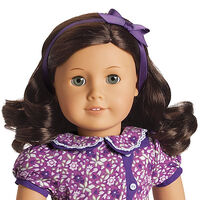 Skin: Light
Hair: Dark brown with highlights, side part
Eyes: Gray
Meet Outfit
Purple flower print dress
Light blue socks
Black Mary Jane shoes
Purple hair ribbon
Underpants
Meet Accessories
Wristwatch
Purple barrettes
Black purse
Handkerchief
Collection
See: Ruthie's Collection
References
Community content is available under
CC-BY-SA
unless otherwise noted.