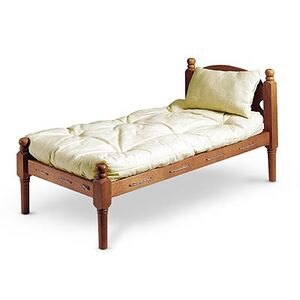 The Rope Bed (also known as Addy's Bed) was introduced to Addy's Collection in 1993. Retail cost was $48.
It was combined with the Family Album Quilt in 2011 to form Addy's Bed and Bedding.
Bed Frame
Wood framed rope bed. Speckled wood finish. Rounded headboard. Rounded knobs at corners of headboard and foot. Laced ropes in frame. Comes disassembled and is put together with four screws.
Mattress
Muslin cotton-filled mattress. Stitched at spots in center in regular pattern.
Pillow
Muslin rectangular pillow.
See Also