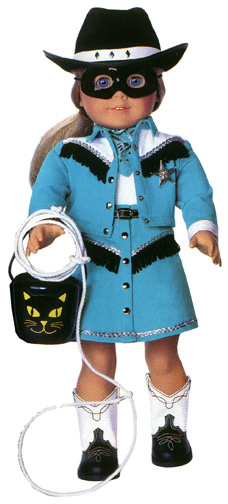 The Rootin', Tootin' Cowgirl outfit is an American Girl of Today outfit released in 1998 and retired in 2000. Retail cost was $24.
Jacket
Sky blue faux-suede cowgirl jacket. White cuffs and yoke. Silver "studs" at front opening. Silver sequin trim and black fringe at edge of yoke panels. Worn open.
Tank Top
Solid white tank top with Velcro closure up back. Same tank top as used in the Play Outfit.
Skirt
Sky blue faux-suede straight skirt. High waist with black attached belt with silver buckle. Pointed hip yoke trimmed with silver sequins and black fringe. Silver studs down front. Silver sequin trim above hem; skirt comes to just above the knee.
Hat
Black cowgirl hat. White hat band with three diamond-shaped silver studs at center front.
Boots
Two-tone cowgirl boots. White ankles and black toes with scalloped edges. Trimmed at toe and upper edge with looping silver embroidery.
Bandanna
Sky blue doll-sized bandanna with white and black designs. Shown tied around the neck.
Lariat
Coiled white rope lariat (lasso rope). Shown in doll's right hand.
Pin
Silver star-shaped pin. Shown pinned to left yoke of jacket.
Mask
Simple black mask. Black elastic cord to secure around head.
Treat Bucket
Black plastic bucket with matching handle. Yellow eyes, ears, nose, mouth and whiskers form a cat's face printed on front of bucket.
Community content is available under
CC-BY-SA
unless otherwise noted.