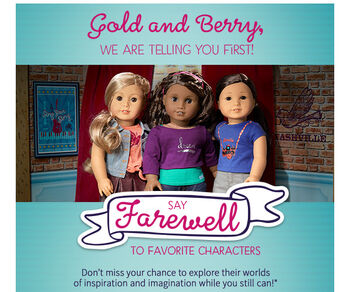 Retirement is when a doll, outfit, book, accessory, collection, item, and/or product line is discontinued and no longer available for purchase direct from American Girl.
In the American Girl FAQ, the official explanation for retirement is as follows:
"Like every company, American Girl is constantly revitalizing our products to best meet the needs of our customers and our business. While some items are discontinued, many other products are added to keep American Girl interesting and engaging, and to celebrate who girls are today."[1]
Originally, very few things were retired from Historical Collections. To maintain consistency with the characters through time, almost nothing was retired by Pleasant Company. While several things were remodeled or retooled, they were not completely removed from being purchased. The major exceptions during these years were the original white body dolls, which were removed to give all the characters flesh-toned bodies, and the 1997 Limited Edition Historical Outfits, which, by their nature, were only intended to be offered in small quantities for a limited time.
Keeping each historical character's items consistent—thus to show how things changed through time—was a policy kept until Mattel purchased American Girl. While they maintained this pattern for the initial years, items later began to retire more often and with less of a pattern among the Historicals. For a number of years, retirements were heavily skewed towards Addy, Kirsten, Josefina, and Felicity. Addy, for example, has had every single item in her original school collection retired.
When Kaya was released in 2002, Felicity was removed from paper catalogs. She was only sold online through the website, and items in her collection were massively retired. She was not included in story expansions or collections as well. Several items (but not all of them) were rereleased when the movie and Elizabeth Cole were released and Felicity's collection was revamped.
Starting with Cécile's Summer Outfit and Marie-Grace's Summer Outfit, Limited Edition Historical Outfits and items began to be released again. These were given end dates at release; it is stated that items are only available generally (in their limited design) until December of that year or while supplies last. [2]
The official position of American Girl is that low-selling Historical items are removed to allow newer items to be released.
Historical Character Archiving
On October 6, 2008, it was leaked by American Girl Customer Service that Samantha Parkington and her entire collection, including Nellie O'Malley and her own collection, would be archived -- they would be put away for an unknown number of years, and American Girl's press releases were vague as to whether they would even be rereleased.
The official announcement was made on Oct 13, 2008[3], and soon after, a website was launched to share memories of Samantha. [4] Catalogues and the website stated that the 2008 Holiday Season would be the last holiday season to get Samantha and Nellie. Nellie dolls sold out completely on December 5, 2008; Samantha dolls remained on constant backorder until selling out on Feb 3, 2009. All item purchases were limited to three maximum of each item (to prevent hoarding of products and/or reselling). Books about Samantha and Nellie, as well as their mini dolls and the movie, remained available. Samantha and her collection was officially archived on May 31, 2009, with the release of Rebecca Rubin.
A letter was sent out by American Girl on September 25, 2009, that Kirsten Larson and her entire collection would be archived with the exception of her books and mini doll. A press release from American Girl regarding Kirsten's archival was announced on October 1, 2009. Her collection was officially archived January 1, 2010.
In September 2010, American Girl announced that they would archive Felicity Merriman, Elizabeth Cole, Felicity's entire collection, and Elizabeth's collection. Felicity's entire collection was archived on March 28, 2011.
In June 2013 American Girl announced that they would archive Molly McIntire, Emily Bennett, Molly's entire collection, and Emily's collection. Molly's entire collection was archived on January 1, 2014.
On February 17th, 2014, American Girl's Facebook page stated that Samantha would be rereleased in Fall 2014.[5] In May 2014, American Girl announced that Marie-Grace Gardner, Cécile Rey, Ivy Ling, and Ruthie Smithens would be retired in preparation for the BeForever revamp of the Historical Line, effectively retiring the Best Friends as a line. This gave Marie-Grace and Cécile the shortest ever availability, at only three years.
On May 4th, 2015, American Girl announced they would archive Caroline's entire collection,[6] only her books and mini doll will remain available. This made her tie with Marie-Grace and Cécile for the shortest ever availability, at only three years.
With the release of BeForever, older books for all characters that transitioned into the line were rereleased in the newer two-volume format. Already archived characters had their books gradually removed from stores, though some are still available on the website. All Mini Dolls that had cloth bodies were also retired and only characters carrying forward to BeForever were given the new all-vinyl versions until 2016, when limited rereleases of Molly, Kirsten, and Felicity (in her second meet outfit) were released.
All archived characters are seen on the American Girl Archive Website. Originally, tags included the phrase "Her/Their stories live on!" but with the gradual phasing out of older books, this tagline has been removed.
Archival is explained by American Girl to allow them to release characters from other time periods or angles that have yet to be covered; so far, this has been accurate. It is also possible now that there may be temporary or scheduled rotating returns of archived Historical and BeForever characters.
It was originally unknown if archived Historical characters would ever be rereleased; Samantha's return for BeForever set a precedent, and this was later reconfirmed with the rerelease of Felicity in February 2017. However, Felicity was only released with a new meet outfit, matching meet accessories, an underwear set, and newly designed BeForever two-volume books and her gamebook.
No characters were retired with Melody Ellison's release; however, most non-flagship stores removed Addy Walker from full display and placed her in smaller, less prominent locations. With the release of Nanea Mitchell, Addy Walker and Samantha Parkington were not retired; instead, they were reduced to limited capacity at Flagship stores (Chicago, NY, and LA) and online, similar to Felicity. This appeared to be the new precedent and was confirmed later with Samantha's limited collection and other characters such as Kit and Josefina.
This method of semi-retirement is referred to by many collectors as "cubing," (as characters are displayed in stores in smaller cubes) allows historical characters to remain available as obtainable dolls and lasting characters but in a diminished availability. A cubed character generally has only the doll, meet accessories, and books available for purchase.
Molly McIntire was partially re-released in 2018. In 2017, booksellers and the American Girl Publishing website released information indicating Molly's books and a new mini doll would be re-released as part of BeForever. These were released in February 2018; a preview of the potential BeForever doll was also released inadvertently on the official site, but soon taken down. The BeForever dolls appeared exclusively in Costco bundles in fall 2018 with a new meet, accessories, and pajamas. The bundles were not widely available through American Girl stores or their website outside of clearance sales. Her books were retired in 2020, but her BeForever mini doll remains available.
The American Girl Publishing website updated all of its character pages with new logos when the historical line was refreshed in 2019. They also updated Molly's page with a new logo that was not used on any other site. It is possible that American Girl considered re-releasing Molly and had a logo for her and Felicity in development before deciding to archive both characters again.
American Girl relaunched the historical line in October 2019 and removed all branding for BeForever. At that time, displays were rearranged in stores, and Josefina Montoya and Kit Kittredge joined Felicity, Addy, and Samantha as cubed characters. The Central Series books were also updated[7], retiring the older volumes as well as phasing out the My Journey Books. Felicity and Molly's BeForever books were also retired.
Felicity was included in promotional materials for the relaunch of the historical line, and she received a new character logo on the site along with the rest of the girls. This seemed to be an indication that she would remain available. However, she was quietly archived for a second time just two months later in early December 2019. American Girl did not announce her retirement as with earlier archivals. Her doll disappeared from the site and the company confirmed her archival through a comment on Facebook, which read: "We will be adding Felicity back to our lineup of archived characters and look forward to the next time we may reintroduce her to fans as we did in 2017." Dolls still in stores were sold by the end of December. Her books were retired in 2020, but her mini doll remains available.
Felicity, Kirsten, and Molly were re-released for the 2021 35th Anniversary in special edition sets with their classic meet outfits and accessories. Josefina, Addy, and Samantha were also made available in their classic sets; although American Girl still sold their BeForever versions, the stock was taken out of rotation at stores to more promote the classic versions.
Modern Line Retirements
The modern line dolls (currently called Truly Me) have always had periodical retirements of clothing and accessories so as to be able to update styles to reflect modern fashion. Holiday outfits are quite often retired in early Spring after release, if not soon after the holiday season is concluded. Furniture tends to last about a two to three year cycle. Matching children's clothing is retired about the same time the doll's outfits are, and allowed to sell out.
Several outfits and accessory sets have been retired for the Create Your Own line; they are generally replaced with new sets.
Dolls have been retired for various reasons. Some include:
Some dolls are retired due to low sales or low stock.
Others dolls have been retired soon before or after a doll of a similar nature is released.
All dolls that had thick bangs ("pie" bangs) have generally been modified to have a thinner bang style.
It is suspected the grey eyed dolls were retired or remodeled due to an inclination towards silver eye.
When all dolls could get pierced ears, the original version of Just Like You 27 with permanently attached earrings was retired.
At the release of Gabriela McBride, since she was in essence a renamed #46, the doll was retired shortly before release. This was also true with Z Yang and Just Like You 30.
As of 2022, all the original twenty released American Girl of Today dolls are retired.
Due to the nature of the Girl of the Year line being limited edition collections, the dolls were retired in a set schedule. Each doll and several items are released at the start of the year. A few more items are released in the summer or fall. Initially, all items available were retired at the end of the year regardless of remaining stock; any items that went out of stock in the latter half of the year were retired at that point and could be considered retired after they become sold out.
The only items originally left available after the character's year had ended are books and other media, such as Chrissa's movie. At the release of McKenna Brooks, American Girl removed the books Lindsey, Kailey, Marisol, and Jess from sale. Later Nicki, Thanks to Nicki, Mia, Bravo, Mia!, Chrissa, and Chrissa Stands Strong were removed. Nowadays American Girl only keeps older Girl of the Year books and movies in stock for short periods of time.
In later years after the launch of the next doll, remaining stock would be sold at discount. This was followed by everything being fully retired and remaining stock sent to the American Girl Benefit Sale. At Chrissa's retirement, some items were released again under generic names and sold as part of the My American Girl collection.
In 2015 Lindsey, Kailey, and Marisol were removed from the Girl of the Year Archives and all dolls prior to Jess were removed from the official Girl of the Year website. After a few weeks, Lindsey, Kailey and Marisol were restored to the Girl of the Year Archives. On the official site, the oldest character was removed as the newest was added, only showing the most recent in focus and last few characters over to the side. As of 2019, the separate Girls of the Year website has not been not updated; characters are instead integrated into a main character page that covers multiple characters.
Gabriela's collection was announced as being available in 2017 and beyond; she remained available along with many items in her collection until being formally retired in 2018, setting a new precedent of about two years for the length of collection availability. Until 2021 the Luciana doll was still available, though all the items in her collection had been retired by the end of 2020.
The Contemporary Line initially did not announce any time of retirement for the characters; in 2018, Tenney and Z (as well as Gabriela) were announced as retiring, effectively ending the line.
Like the modern American line, Bitty Baby and Bitty Twins have items retired on a cyclical basis.
With the revamp of the Bitty Twins line in 2006, all the outfits that suggested a younger age to the twins were retired.
With the change to Bitty Baby as less like a baby and more of a doll companion in 2013, Bitty Bear was retired. Later, several versions of Bitty Baby were retired, slimming the line down from the eleven dolls it had available, and books that had been available were retired and removed. Various revamps of the Bitty Baby collection has resulted in older items being retired.
With the release of the WellieWishers line, the Bitty Twins collection was officially retired.
Other Retirements
Several lines have been retired by American Girl, most often due to poor sales, replacements, line issues, or lack of interest:
Retired Licensed Products
Amelia's Notebooks were discontinued through American Girl with their collaboration ending in 2003. Marissa Moss continued to write books in the series until 2015, through Simon and Schuster.
The Angelina Ballerina licensed line had the license purchased by another company in 2004.
Book Line Retirements
Books have been retired on an infrequent basis. It generally depends on the line.
Original Fiction Novels are no longer sold, purchased, or published through American Girl.
The History Mysteries are a discontinued line.
While the Girls of the Year were initially retired at the end of their presentation year, their books and any movies released remained available for a time afterwards. Older books eventually began to be retired as newer books were released.
When all of the Girls of Many Lands were retired, so were their books.
The launch of BeForever and the restyled books meant older style six-volume books--and meet books for Best Friend characters--were retired and made generally unavailable. This was also true when the BeForever branding was discontinued and new, abridged central series books were made available.
Other books, such as activity books or informational books, are retired in cycles as purchases and/or stock become low, the books do not perform to expectations, or relevance is diminished. While the Historical Characters have had some books retired (e.g. the Short Stories and Historical Character Mysteries), no available characters have not had their Central Series ever been retired completely. However, all hardback editions have been retired, which was done by the launch of Julie. With the launch of BeForever, Central Series no longer became available in single-story books, and in 2019 abridged versions were launched that restored illustrations but reduced stories, removing some plots altogether from the volumes.
Already archived characters no longer have books sold in stores, though some are still available on the website.
Purchasing Retired Items
Although items cannot be purchased by American Girl directly after retirement, there are other ways to obtain retired items. Many will have a higher cost than what was originally offered due to either rarity or fragility, but many can be found at a cheaper cost.
Books are the easiest item to purchase. Older books can be found on multiple secondary markets such as used/or and secondhand book stores (e.g. Half Price Books or library book sales), Amazon private sales, private personal sales, or eBay. Some books may remain in stock at physical book stores for a short while even after a character is archived or books (including specific versions) are discontinued, but this is erratic.
A prolific method is eBay or similar secondary purchase sites, such as Mercari, Craigslist, and Goodwill auctions; retired items can be searched for and purchased from sellers. This is hit and miss—some items show up very frequently, while others show up rarely, and prices may be overinflated due to seller assumptions of rarity or value of items. Frequently items are sold incomplete and can be missing various things; some items are fragile and have broken over the years (for example, the windmill that comes with Felicity's Town Fair Outfit is known to break very easily). Items such as hats or smaller accessories, extra hair clips, shoes, or even major components may be lost, as items are often sold secondhand after children's use).
Used toy or secondhand stores may sell American Girl items; one example is Girl Again, a resale boutique for gently used items. Items also occasionally show up and are donated to thrift or second stores, such as Once Uopn a Child or Goodwill; prices may vary.
As products may qualify as "vintage" according to Etsy in being a minimum of twenty years old at listing, older items can sometimes be found there. Like eBay, prices may be dramatically overinflated by sellers due to assumptions of rarity or value.
If a collector is a member of online communities, they can find other collectors or owners who are selling items through private direct sales, including via social media.
The American Girl Benefit Sale used to have several retired items available that were returned to American Girl. This was changed with the Consumer Product Safety Information Act; they now primarily sell overstock and returns, though recently retired items and occasional older product is sometimes available in small capacity. Older retired items in low quantities are often auctioned or raffled, rather than sold directly.
Some collectors who are skilled in craftwork or sewing make replications of items and outfits, either for personal use or to sell to other collectors. It can be very hard to do this with clothing, as fabric prints cannot be exactly matched each time; however, many collectors are satisfied with near replicas.
Some wholesale doll clothing companies have made replications; the quality and accuracy of these items varies.
Links
References