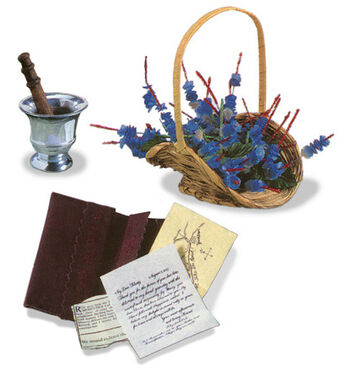 The Rescue Kit (also known as Felicity's Rescue Kit) was introduced to Felicity's Collection in 1992 and retired in 2003. The set is associated with the book Felicity Saves The Day. Retail cost was $18.
Gathering Basket
Wicker woven gathering basket.
Pocketbook
Leather pocketbook.
Letter
A script-written letter. Text as follows:
August 5th, 1775[1]

My Dear Felicity

Thank you for the favour of your last letter delivered to my hand yesterday with the news of such surpassing Joy. Penny, your dear Horse, has been returned to you. My Heart fills with Happiness; indeed, I believe my Delight is second only to yours, for I am and always will be,

Your most affectionate
and loving Friend
Elizabeth Cole


P.S. Remember me to your Mother and Grandfather. I hope they are well.
Newspaper Clipping
Newspaper clipping from a classified ad. Text as follows:[2]
Williamsburg, August 19, 1775

Run away from the Subscriber, on the 15th Day of August, an Apprentice Lad named Benjamin Davidson, 6 Feet high, about 16 year old, slender and well made, of a clear complexion, has long brown hair, brown eyes, a forthright look, and frank manner. I have reason to believe he is headed Yorktown way. Whoever delivers the said Apprentice to me shall have eight dollars Reward; and I hearby forewarn all persons not to harbour or entertain him.
There are truncated texts around the clipping of other ads.
Map
"Drawn" map showing the path leading from the plantation to Yorktown.
Lavender
Witch Hazel
Mortar
Silver metal mortar bowl.
Pestle
Wooden grinding pestle.
References
Community content is available under
CC-BY-SA
unless otherwise noted.