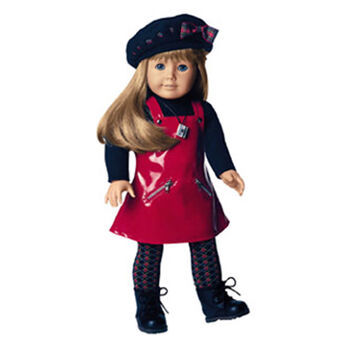 The Red Vinyl Jumper Outfit was the third meet outfit in the American Girl of Today line. It replaced the First Day Outfit in 1998 and was replaced by the Urban Outfit in 2000.
Outfit
The outfit was available separately for $22.
Jumper
Red vinyl jumper with silver snap straps and two functional zippered pockets.
Sweater
Black long-sleeved ribbed-knit mock turtleneck sweater. Velcros in back.
Tights
Red, black, and green argyle-print knit tights.
Boots
Black Doc Marten-style boots. These are the same boots sold with the School Jumper.
Scrunchie
Plaid print scrunchie.
Panties
White and black polka dot underpants. Black elastic waistband.
Grin Pins
Doll came with ten mini Grin Pins on a card attached to the doll's wrist by an elastic thread.
Accessories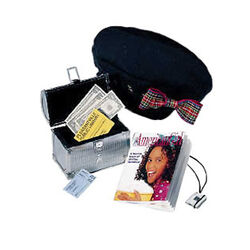 The accessories were available for purchase separately for $20 or could be bundled with the doll for a discounted price.
Beret
Black beret. Black, green, and red plaid bow and trim.
Necklace
Necklace with tiny notebook pendant.
Purse
Silver metal lunchbox-style purse with inside pockets.
Money
Three miniature $1 notes
Magazine
Miniature magazine of the March/April 1994 edition of American Girl Magazine.
Library Card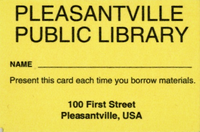 Yellow paper library card. Measures 1 x 1.5". Text:
Pleasantville Public Library
Name: ______________________
Present this card each time you borrow materials.
100 First Street
Pleasantville, USA
Carried from Mix and Match Accessories.
Lunch Tickets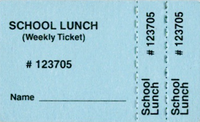 Three blue paper lunch tickets. Measures 1.25" x 0.75". Text:
SCHOOL LUNCH
(Weekly Ticket)
#123705
Name: _______________________
Attached to the main ticket are two small, perforated tear-off tickets with the words "School Lunch" and "#123705" on each ticket.
Carried from Mix and Match Accessories.
Mini Grin Pins
Ten mini Grin Pins.
The children's matching outfit was available:
Vinyl Jumper: $30, later $32
Solid Ribbed Sweater: $26, later $28
Argyle Tights: $12
Black Beret: $10
Notebook Necklace: $12

(Necklace is aluminum and has paper inside for notes. 26" cord.)
Trivia
Many of these jumpers have cracked or peeled with age, storage in bad conditions, or a combination of both factors. As a result, jumpers in good condition can be rare and expensive.
The jumper tends to crack most around the seams and fold lines on the outside edges. To best maintain the material, store in temperate conditions. Do not leave it folded or lying flat for long periods of time- it is best to leave it on a doll or store it on a hanger with nothing else pressing on it.
Two types of vinyl seemed to be used on this outfit. One has more of a matte finish, and another has a shinier finish. The early version has a thicker material and the later has a more flexible, thin material.