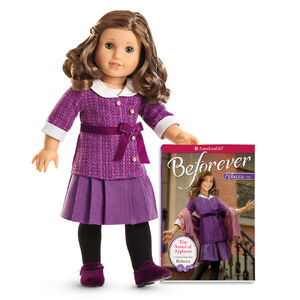 The Rebecca Rubin doll was released in May 2009 and updated in Fall 2014 with BeForever.
Skin: Light
Hair: Honey brown, curly, side part, no bangs
Eyes: Hazel
Brows: Feathered
First Edition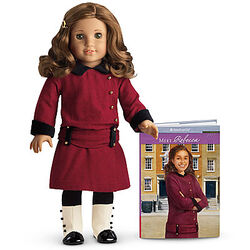 Rebecca's meet outfit is intended to imitate the fashions of the 1910s. In Meet Rebecca, it is mentioned this dress was from a mail-order catalog with the description "[r]ich garnet tweed for the sophisticated young lady."
After the launch of BeForever, the set was sold (minus hair accessories) as Rebecca's Classic Outfit for $36.
Dress
Red tweed drop waist dress. Black velvet collar, cuffs, and belt loops. Gold button trims. Velcros up the back.
Stockings
Black stockings.
Shoes
Off white and black high button shoes. Black shiny toes. Four black nonfunctional buttons on sides. Velcro up the back. These are similar to the ones that came with Samantha's Middy Outfit.
Bloomers
White bloomers.
Hair Clip
Oval gold hair clip. Black backing.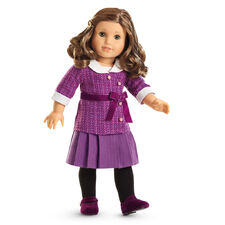 The BeForever Outfit for Rebecca is available alone for $36. Again, it is mentioned in the text of The Sound of Applause, now as "[r]ich violet tweed."
Jacket
Purple tweed asymmetrical jacket with three-quarters sleeves and side closure. White dotted swiss Peter Pan collar. White dotted print cuffs. Four gold and purple pearl decorative buttons down left side. Purple velvet ribbon around waist; velvet bow on left side with diagonal ends. Velcros down front left.
Skirt
Purple pleated tweed knee length skirt. Subtle chevron print. White undershirt attached.
Historically this was still considered a skirt, even with an attached undershirt.
Tights
Black tights.
Shoes
Plum velvet Mary Janes. Black soles. Velcro closure.
Bloomers
White bloomers. Unchanged from Classic outfit.
Hair Clip
Oval plastic gold hair clip. Black backing.
This is not included when the outfit is purchased separately, and is not changed from the Classic outfit.
Meet Accessories
First Edition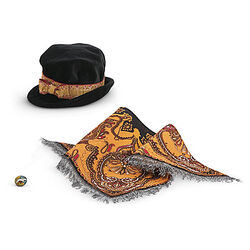 Hat
Black velveteen soft hat with gold and red silk ribbon in a bow.
Shawl
Multicolored fringed shawl.
Brooch
Brooch with rabbit and flowers. The brooch belonged to Bubbie, who brought it with her on her journey to America. The rabbit comes from the Russian folk tale Clever Karina, where Karina rides to the Tsar on a giant rabbit as a solution to his riddle.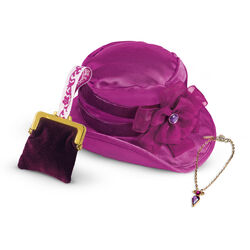 Hat
Purse
Necklace
Third Version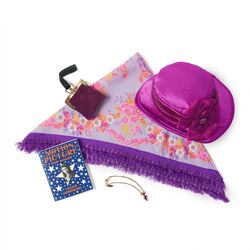 Rebecca's third set of Meet Accessories added the following items:
Shawl
Magazine
Motion Picture magazine featuring Lily Armstrong.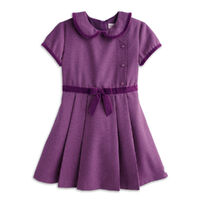 A dress inspired by Rebecca's BeForever Meet Outfit, the Pretty Plum Dress, was available for $58.
Community content is available under
CC-BY-SA
unless otherwise noted.