'"Rebecca" redirects here. For the doll, see Rebecca Rubin (doll).
Rebecca Rubin is the tenth Historical Character, representing early twentieth-century America during the second wave of European immigration and Jewish-American culture. Rebecca was released in 2009 and was part of the BeForever collection.
Personality
Rebecca is nicknamed "Beckie" by her family. Her mother and grandparents immigrated from Russia, as did her father's parents. Rebecca's family is Jewish and maintains a commitment to their heritage. She wants to be an actress like her cousin Max when she grows up. Her family does not approve of her following in Max's footsteps, and they want Rebecca to be a teacher; however, she doesn't wish to take their advice. She wants to appear more grown up than she is, despite the mocking from her older sisters. She is thoughtful and generous. Rebecca often accompanies her father to help work at his shoe store. She likes to crochet and is very good at it. She also has a knack for business and making money, similar to her father. Rebecca gets hand-me-downs from her twin sisters and so she has two sets of almost all her outfits which she later shares them with her cousin Ana.
Rebecca loves to be the center of attention or in the spotlight, often being a little envious of her siblings for getting more attention than she does and feeling overlooked. In Meet Rebecca she wants to be allowed to light the Sabbath candles instead of her sisters, who always received praise for looking and acting grown-up. In Rebecca to the Rescue, she's envious because her brother gets lots of attention leading up to his bar mitzvah. Rebecca also loves to make people laugh. She is described as being lively with a dramatic flair.
Rebecca can be a little bossy, especially when she's directing plays, and tends to want things to go her way, which was highlighted in Changes for Rebecca and The Glow of the Spotlight: My Journey with Rebecca.
Rebecca likes coming together with her family for sabbath dinner. Her favorite subject in school is arithmetic, and her grandpa calls her a math whiz. Her favorite book is Rebecca of Sunnybrook Farm. She would rather spend her time in the splashing waves at Coney Island than be anywhere else.
Rebecca struggles with trying to fit in with mainstream American culture and maintain her commitment to her culture and religious beliefs as well. This is most evident in Candlelight for Rebecca--her family doesn't celebrate Christmas, but pressure from others about celebrating the holiday and the emphasis of Christmas being an "American" holiday makes her feel out of place. Rebecca wants to be liked and praised and dislikes being talked about negatively. In Rebecca and Ana, Rebecca was embarrassed by her cousin Ana after her classmates at school teased her. Rebecca has shown herself to be courageous and have natural talent.
Rebecca's family speaks fluent Yiddish; the books are written in English and Yiddish words are integrated into the stories and defined in the back of each book.
American Girl characterizes her as "confident" and "inspiring" while the American Girl shop section describes her as charismatic.
Family and Friends
Family
Friends and Minor Characters
Books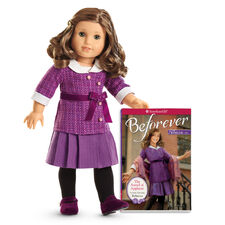 Main article: Rebecca Rubin (doll)
Collection
Trivia
See also
References and Footnotes
↑ In Rebecca and the Movies, Rebecca and Rose are out on a Saturday afternoon during Passover. Rebecca says her birthday is the next day--Sunday. Passover in 1915 was from Tuesday, March 30 to Tuesday, April 6th by the Gregorian calendar in 1915. The only Sunday in that time frame is the 4th of April. Her birthday was later formally confirmed by American Girl.