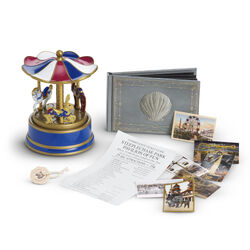 Rebecca's Souvenir Set was introduced to Rebecca's Collection in 2010 and retired in 2015. It is associated with the story Rebecca to the Rescue. Retail cost was $32.
Memory Book
Seashell-embossed grey memory book. "Souvenirs" printed on the seashell.
Postcards
Seven sticker-backed postcards.
Poster
Poster advertising various attractions at Steeplechase Park.
Carousel
Plastic wind-up carousel music box. Plays the tune Over the Waves.
Ticket
Ride ticket attached to a string.