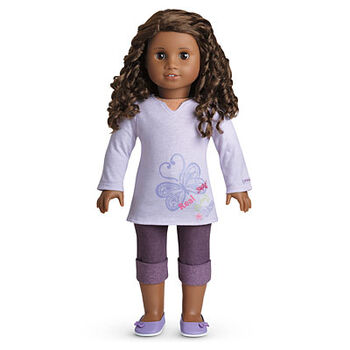 The Real Me Outfit was the ninth meet outfit for the My American Girl dolls, replacing the Star Hoodie Outfit in 2010 and replaced with the True Spirit Outfit in 2012.
Real Me Outfit
As the outfit was tied to the launch of Innerstar University, it was never made available as a separate purchase during its lifespan as a meet outfit.
Tee
Lavender hip-length graphic tee. Dark lavender butterfly silhouette on lower left side of the shirt; "Real", "Smart", "Strong" and "Kind" printed under the butterfly. Small dark lavender flower silhouette and A*G on upper right sleeve.
Capris
Dark purple denim-like cuffed capris. Elastic in the back.
Underwear
Shoes
Lavender ballet flats with bows.
Accessories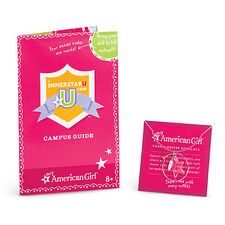 The necklace and booklet were bundled with the outfit and never made available as a separate purchase during the outfit's lifespan.
Necklace
Charm-keeper necklace. Pink sliding adjustable cord. Silver opening loop with small American Girl Logo charm and translucent star-shaped charm.
The necklace was later given an independent release as the Charm-Keeper Necklace in 2014.
Booklet
Booklet containing two codes to activate an account on Innerstar University.
The children's outfit was available.
Trivia

The Real Me Outfit was the first meet outfit for the AGoT/JLY/My AG line not to be made available as a separate purchase during its run since the line's debut with the Mix and Match Outfit.
The outfit was briefly made available as a Cyber Monday sale in 2012 for a discounted price of $13 and came with a square "Loyal" charm. Later, the outfit was offered as a Purchase With Purchase at American Girl Place for $16 (with a qualifying $50 purchase) with no charm, and then for $12 in 2014 with no shoes or panties.