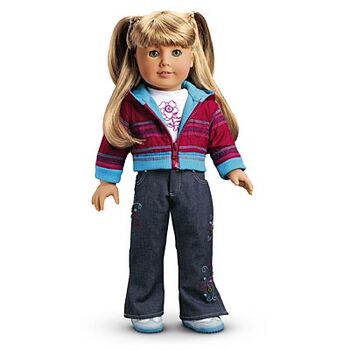 The Ready for Fun Outfit was the sixth meet outfit for the Just Like You line. It was introduced in 2004, replacing the Go Anywhere Outfit and was replaced by the I Like Your Style Outfit in 2006.
Outfit
The outfit could be purchased separately for $26.
Shirt
White 3/4-sleeve t-shirt with pink printed flower on front and AG logo.
Jeans
Dark denim jeans with a slight flare and splits on the side. Beadwork and embroidery were on both sides; near the hip on the right side and from hip to ankle on the left.
Windbreaker
Red windbreaker-fabric hoodie with pink, blue, and red stitched on stripes; lined in blue fabric and with a red zipper front.
Socks
Pink, blue, and purple striped socks.
Sneakers
Blue and white sneakers with blue velcro-closed "laces" and blue stitching. The velcro should go inside when the shoes are on the correct feet.
Panties
Magenta panties with white elastic.
Accessories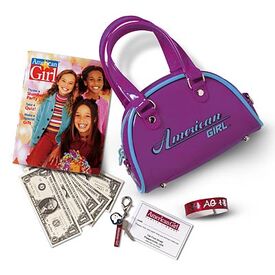 Accessories were sold separately for $19.
Purse
Purple and blue vinyl bowling-bag style purse.
Magazine
Miniature American Girl magazine.
Money
Five miniature $1 bills.
Keys
Keychain with Coconut charm and key
Library Card
Pretend library card.
Bracelet
Red vinyl bracelet with AG logo.
Book
Spiral bound activity book "Friends Forever"; the owner could fill in questions and preferences about her doll to help encourage to give her character.
The children's outfit was available:
Jacket: $38
Tee: $26
Jeans: $36