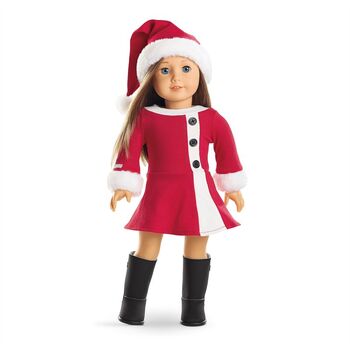 A Purchase with Purchase (abbreviated as PwP) is an opportunity offered, generally at American Girl Place, to purchase an outfit or accessory set at a low cost with a qualifying amount of purchases.
Qualification and Locations
The general qualifying amount is $50, which allows the purchase at about $10-20 onto the current purchase. This is per transaction, not per amount spent.
Most of the time a Purchase with Purchase is only seen at participating American Girl Place locations; purchase with Purchase sets may not be universal across all AG stores. It is rare for a Purchase with Purchase to be available through the website.
Some outfits have been uniquely available through Purchase with Purchase, such as the Vacation Outfit. During the holidays, smaller holiday set were sometimes released, mostly consisting of a sweater and headgear (such as a hat or headband).
Most recently, recently retired outfits have been re-released as a Purchase with Purchase, including older Meet Outfits such as the Real Me Outfit, Girl of the Year ensembles such as Gwen's Meet Outfit, or older modern outfits such as the Photographer Outfit.
Unique Purchase With Purchase Outfits
References