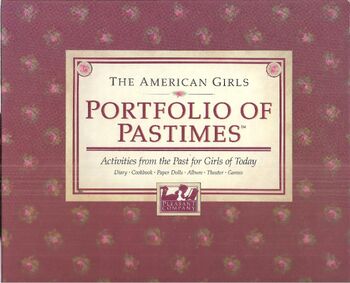 The Portfolios of Pastimes (or "Pastimes Collection") was a set of six books that offered activities. The sets focused on the first three released Historical Characters, complimented with Historical Character Craft Kits, and was the precursor to the American Girls Pastimes.
Overview
The portfolios became available in early 1991; the characters focused on were Kirsten Larson, Samantha Parkington, and Molly McIntire as they were the only released characters at the time.
Each portfolio was either modeled like a book or in an envelope for safe-keeping. Each set focused on each of the three characters fairly equally and had historical facts and data sprinkled through the text where it was available. The American Girl Patterns later used the same design for their covers.
The books could be purchased individually, as sets, or as part of a subscription. Sets could be purchased for flat fees of $79.95 for all the books and $100 for all the craft sets.
A six-month subscription to the activity books was $84 ($14 per month) and included all the portfolios. A six-month subscription to the craft kits was $108 ($18 per month) and included all the craft sets.
A one-year subscription was $192 ($16 per month) and received all the available items. It also came with a bonus introduction kit and a craft apron. The Craft Apron could also be purchased separately for $8.
Through the year, the sets alternated between the activity books and the offered Historical Character Craft Kits; the first month after purchase was the first received item (so if a collection was purchased in October, the first item would be the album).
The kits and activity books remained available until 1994, when they were supplanted by the American Girls Pastimes for each character (which now included Felicity Merriman and Addy Walker) and retired.
Schedule and Items
The year-round schedule was as follows:
Trivia
Samantha and Kirsten were given portraits from their Meet book covers, but Molly's portrait was from the original 1986 cover of Molly's Surprise.
With the exception of the Embroidery Sampler and Victorian Valentines (loosely) for Samantha, the crafts are not mentioned directly in the character series.
See Also
Community content is available under
CC-BY-SA
unless otherwise noted.