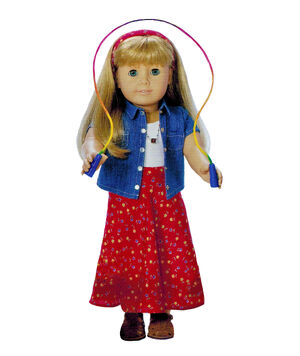 The Play Outfit was an American Girl of Today outfit released in 1998 and retired in 2000. Retail cost was $22.
Tank
White knit tank top. Velcros up back.
Overshirt
Short sleeve fitted denim shirt with white stitch trim with collar. Two functional breast pockets. Five clear functional snaps on front.
Skirt
Red floral-print ankle length waist-banded circle skirt. Short Velcro closure on back with snap at top.
Sandals
Brown faux-suede fisherman's sandals with functional side buckle. American Girl Today logo on sole.
Headband
Red and white floral plastic headband; material matches skirt.
Necklace
Silver chain necklace (with intermittent colored chains) and square bead with American Girl logo on four sides in yellow, green, blue, and red. Based on the "Add a Girl" necklace.
The girl's outfit was available:
Shirt: $24
Tank: $14
Skirt: $32
Headband: $??