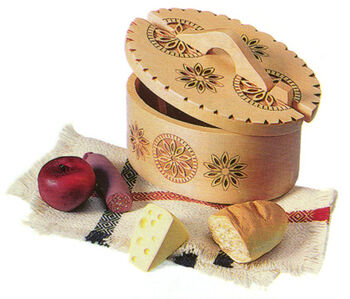 The Pioneer School Lunch was introduced to Kirsten's Collection in 1986 and retired in 2008. It is associated with the book Kirsten Learns a Lesson. Retail cost was $18 and later increased to $20.
Tine
First Version
Oval-shaped wooden box. Black painted circles in the shape of starbursts and circles on lid and side.
Second Version
Oval-shaped wooden box. The wood was thicker than the previous version. Black carved flowers on lid and side. Lid has notched triangles around rim and handle. Released in in 2000.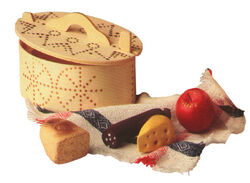 Bread
Hunk of bread.
Sausage
Half a sausage.
Apple
Red stemmed apple.
Cheese
Wedge of yellow Swiss cheese.
Napkin
Woven napkin. Cream with blue and red stripes. The napkin was phased out in 2006.
Trivia
The word "tine" is Swedish and pronounced "TEE-na."
Early versions of this set had food made by Silvestri, a company that makes collectibles. These have gold stickers on the bottom with the company name. Later versions had food made by Pleasant Company.