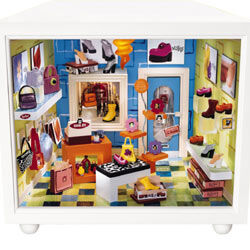 The Petite Boutique was an American Girl Minis collection of accessories that were sold separately or in a complete collection for $178. They were released in 2002 and retired in 2003 with the rest of the line.
Collections
Complete Petite Boutique Set
This set included an Illuma-Room as well as the Boutique Decor Set, Shop Fixtures, Display Shelves, Hip Handbags, and Fancy Footwear. Retail cost was $178.
Boutique Box Set
The Boutique Box Set was a cheaper alternative to the complete version. It included an Illuma-Room and the Boutique Decor Set. Retail cost was $84.
Individual Sets
Shop Fixtures

Display Shelves

Hip Handbags

Fancy Footwear