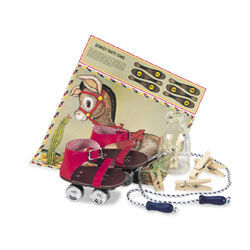 The Party Games (also known as Molly's Party Games) were introduced to Molly's Collection in 1987 and retired in 2006. The set is associated with the book Happy Birthday, Molly!. Retail cost was $20.
Game
Pin the Tail on the Donkey game. Tails can be cut out and used to actually play the game on the poster.
Bottle
Glass bottle. Has molding on side that reads "Pleasantry Farms Grade A Milk."
Clothespins
Four functional wooden clothespins. These were advertised to be used playing "Drop the Clothespins in the Bottle."
Roller Skates
Roller skates. Brown soles with two sets of silver wheels. Red vinyl straps.
Jump Rope
Toy jump rope. Blue painted wooden handles. Blue and white rope is strung through handles and knotted at the end.
Trivia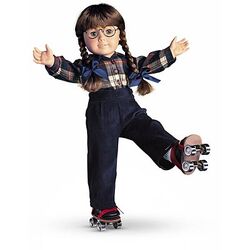 Community content is available under
CC-BY-SA
unless otherwise noted.