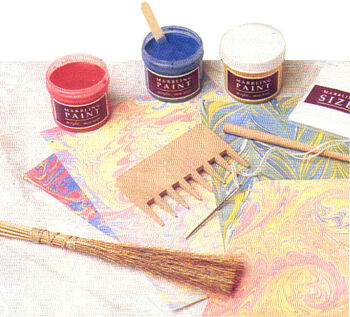 Felicity's
Paper Marbling Kit
was a
Historical Character Craft Kit
introduced to
Felicity's Collection
in
1993
and
retired
in
1996
. Retail cost was
$18
.
The kit contains enough to make up to ten marbled papers, and one or two copy books
Marbling Paint
Three jars of red, yellow, and blue acrylic paint.
Marbling Size
Package of powdered marbling size (powder to thicken water).
Marbling Papers
Ten cream cardstock papers. 9" long by 6 1/4" wide
Blank Papers
Eight cream blank papers, used for making one to two booklets. 8 3/4" by 6" wide, with center fold lines and three sewing guide holes in center of each sheet.
Stirring Sticks
Three wooden stirring sticks.
Tray
Plastic marbling tray.
Straw Broom
Straw hand broom.
Comb
Wooden swirling comb.
Stylus
Wooden craft stylus.
Thread and Needle
Tapestry/yarn needle and waxed binding thread. Packaged together.
Instruction Book
Instruction book with diagrams and instructions on making designs on marbled papers and one to two copybooks.
Additional Needed Components
Large Wooden/Plastic Spoon
Distilled Water (at least seven cups worth)
Measuring Cup
Newspaper or waste paper in 2" by 12" long strips
Paper towels
Additional waste paper/newspaper for lining
Trash container
Iron (for book construction)
Additionally, the craft work should be done near a sink large enough to run running water over papers.
See Also
Community content is available under
CC-BY-SA
unless otherwise noted.