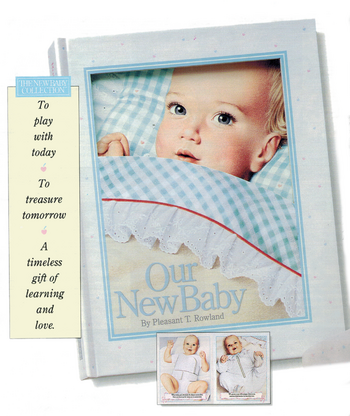 Our New Baby was the precursor line to Bitty Baby.
The line was launched in 1990 and retired in 1995 with the debut of Bitty Baby.
History
The dolls were marketed as a way to get children of all ages, particularly young ones, to adjust to having a new young baby in the house. Dolls were advertised as gender neutral, unlike the later Bitty Baby, with items available that allowed dolls to be portrayed as male or female.
Our New Baby was available in Caucasian (with blond hair), African-American, and Asian-American. Dolls could be purchased alone or with the book Our New Baby, a pop-up activity book with a baby that matched the doll it was sold with. Retail cost was $54 for the doll alone and $68 with the book.
Doll
Each Our New Baby doll measured 15". Dolls came dressed in a white cotton sleeper with a small pink and blue heart print. The sleeper was trimmed at the neck with lace and closed in front with a zipper. The baby also came with a matching undershirt and cloth diaper.
Clothing and Accessories
As Our New Baby was marketed as being a baby that could be of any gender, clothing choices for the dolls reflected this. Each outfit was available in both "boy" and "girl" styles.
Clothing: These came in either "boy" or "girl" versions:
These only came in one style which was gender neutral:
Accessories:
Little Bunny
A small stuffed toy bunny called Little Bunny was available as a separate purchase for Our New Baby. This was possibly the precursor to Bitty Bear; however, Little Bunny was not a character in its own right and was advertised as a toy.
Children's clothing--both to match/coordinate with doll's clothing and as unique components--were released for both young children and infants.
Infant Clothing
Snuggle Suit
Diaper Shirt
Sleeper
Bib
Bonnet, Sweater, and Booties
Baby's Headband, Ribbed Anklets, Lacy Anklets, Party Romper
Knit Creeper
Infant Accessories
Baby Baskinet
Blanket and Pillow
Baby Bunting
Sacque
Bath Set
Baby Bottle
Burp Pad
Receiving Blanket
Diaper Bag
Big Bunny
Children's Clothing
Knit Dress
Knit Soaker
Party Dress, Tights, Hairbow, Mary Janes
Party Suit, Knee Socks, Saddle Shoes
Party Pants
Denim Jumper
Denim Overalls
Long-Sleeve Tee
Play Dress
Knit Overalls
Red and White Tee
Play Pants
Hooded Sweatshirt
Miscellaneous
Gift Basket
Birth Announcements
Picture Frame
Memory Book
Photo Album
Community content is available under
CC-BY-SA
unless otherwise noted.