January 2018
January 1st, 2018 / Luciana Takes Off!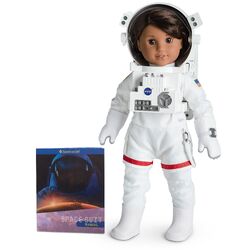 Luciana Vega launched today--fitting, for a character who aspires to be the first girl to go to Mars. The doll and her collection take off (get sick of my space puns later) with the following:
Notably, Luciana's Space Suit can only be purchased right now by AG Rewards members, until August. So if you can sign up, do it!
This includes a new modern mix and match set, based on the sea theme:
Tenney Grant adds to her collection with:
The WellieWishers also have a lot new for them:
Gabriela's Collection remains available (minus the recently sold out loft bed), so she's not retired yet. Don't mark anything gone of hers yet!
Leave the nonsense of mis-done descriptions and bad linking and being anything less that the best back in the past, or we'll punt you all the way to Alpha Centuri.
Nethilia, The Admin (Mars and Bars and Super Stars)
January 5th, 2018 / AG St. Louis Location to Close
The American Girl Place location in Chesterfield Mall will be closing in February 2018. (source). American Girl is citing closing the store "based on the current challenges facing the mall property, which have adversely impacted our store's business." It is unknown if another Missouri location will open.
Nethilia, The Admin
January 30th, 2018 / New Books, Another Contemporary, the Molly Mini Doll, and An Announcement On Spamming
Many books titles have been listed on Amazon.com and the AG Publishing site.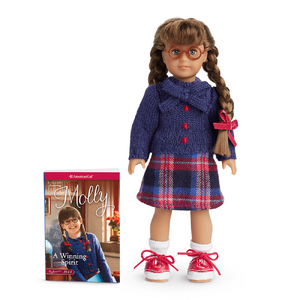 Two books listed as American Girl: Contemporary MG Series 3 by Erin Falligant have been listed on Amazon with a release date of June 2018. No information on the character or any potential product releases have been announced.
A new series by Crystal Velasquez, Forever Friends has appeared; it appears to be focusing on a group of girls who work with various animals, dominantly at an animal shelter. The first two are scheduled for April release, with the third in September.
Two more books in the Like Sisters book series are listed:
Other new books include the activity books Doll STEM, an updated Doll Travel, Smart Girl's Guide: Sports and Fitness, and Smart Girl's Guide: Knowing What to Say.
*~*~*
A recent new user was banned indefinitely for massively spamming a link to an offsite page that had nothing to do with the Wiki project or information about the brand; it was clear the account was created for the sole purpose of spamming a link repeatedly to an offside petition.
The Administration--that's me, AkaiKaze, and Blakegripling ph--would like to remind all users that personal offsite links (including but not limited to personal blogs, petitions, Youtube channels, personal social media, forums, etc.) are limited to a user's personal pages in limited capacity. Article links should only link offsite for factual, informational purposes (such as the link showing a brand of eyes in the Eye Swapping article, the patterns information, an author's personal website on their article, or real-world examples of accessories) and will be vetted for relevance and removed if irrelevant.
Offsite links do not include sites such as Wikipedia--which is integrated into Wikia code and used as an additional cross-informational resource--Amazon or other retailers in news and informational links, news articles, or the American Girl direct social media sites for informational/confirmation purposes. However, do not link to the main site for most things such as games, product data, or informational data unless it is reliably liable to remain (such as the Archives). The AG website updates regularly and old data is removed frequently. (After all, the site has been up since 2000. It's gone through thousands of changes and removals, from games to characters to items.) It's the admin's call on what constitutes an unvetted off site spam link, and our word is final.
Any personal, unvetted, offsite links spammed or linked in articles that show blatant disregard for the purposes of the Wiki--as the spammer did--will result in blocks, up to and including a full ban. I normally wouldn't say anything about it because it's just drawing attention to bad behavior, but after reverting well over a hundred different articles that were spammed/damaged with this petition, I believe said spammer should be ashamed of themselves for their actions and wasting time and resources. They should have known better. Don't Do What Danny Banned Does.
Nethilia, The Admin
February 2018
February 8, 2018 / More New Books
New Book titles found via Scholastic:
Nethilia, The Admin
February 16, 2018 / AG Seattle and Scottsdale to Close Bistros to Casual Dining
A recent layoff of staff announced in January through American Girl has affected the American Girl Places at AG Seattle and AG Scottsdale. Basically, both bistros will close to regular dining reservations starting February 23rd. However, party hosting will remain available.
Nethilia, The Admin
February 19, 2018 / February New Release!
Happy Monday! New things have released.
For BeForever characters Maryellen Larkin and Nanea Mitchell:
New Books:
A new Molly McIntire mini doll has also released with her books.
For Bitty Baby:
New MegaConstrux sets:
Other books: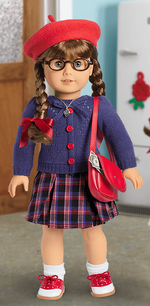 ETA: American Girl has released a informational page about Molly McIntire. This originally included an image of what is plausibly the Beforever version of the Molly doll, which has been posted to the side; this was later removed and replaced with an image of the doll in the Classic outfit.
June 2018
Nethilia, The Admin
June 18, 2018 / Summer Release
There hasn't been a lot of news since February, but now we have new things!
For BeForever characters:
For Luciana's Collection:
Outfits and accessories:
For Generic Doll Use:
For the WellieWishers:
Welliewishers can now also have their ears pierced, and will come with unique earrings, the Bright Blooms Earring Set.
For Bitty Baby:
A little bit for everyone!
Nethilia, The Admin
June 19, 2018 / American Girl Live
American Girl is debuting a new musical in 2019, American Girl Live. A list of select cities can be seen in the official site.
--AkaiKaze, the Other Admin
July 2018
July 1, 2018 / New Outlet Store
American Girl will be opening a new outlet store at the Tanger Outlets in Derry Township (Near Hershey, PA) this summer. The 2,200 square-foot store will open sometime in August. Source The store will focus on selling discontinued and retired items. The last outlet store (located in Oshkosh, WI) closed July 27, 2016.
Nethilia, The Admin
July 6, 2018 / The Ten Year Anniversary of the AG Wiki!
Today marks the tenth year of the American Girl Wiki. So much has happened since the wiki was founded with one person coding character pages and a hope that information about American Girl could be more than what was found on solo sites focused primarily on only the items to buy.
We've seen the release of multiple Historical characters--Rebecca, Cecile and Marie Grace, Caroline, Maryellen, Melody, and Nanea. There's been retirements and later returns of some of the Historical Characters, and the termination of the Best Friends Line. There were major changes to Bitty Baby, and the eventual fading of the Bitty Twins. There's been multiple Girls of the Year, including our first ever Black and Hawaiian moderns, and second Latina character--as well as the Contemporary Line. There's been the revamp of the Historical line into BeForever. There's the release of the WellieWishers, one of the second lines to focus on the elementary kids. Create Your Own allows for customized dolls for the first time in the line's history--as well as the first ever official boy dolls. Multiple stores have opened across the nation, as well as stores outside of the US. A*G Rewards launched.
And Truly Me's gone through about three names--and yes, since category changes are hard, we still call the category by a name several years out of date. Edits, whatcha gonna do.
Good job, everyone who's ever contributed positively to the Wiki. I'm thankful for my admins, the people who add data on products and characters and books plots (and help during full product launches!) and to everyone who's ever even just fixed a problematic typo. And even if you just come across the Wiki in a search and are just glad to have more information (or how to identify your old childhood products), then please keep coming back! Let's keep it going as the years go on.
Nethilia, The Admin
July 18, 2018 / MCM and AG in Other countries
This weekend is the MCM Sale in Madison, WI.
Starting June 11th, American Girl started selling Truly Me dolls and accessories in Columbia, exclusively at Pepe Ganga (Spanish site) for 499.99 Colombian Pesos (about $174). Thirteen stores are carrying the dolls, with six in the capital of Bogotá. Right now the only dolls abailable are #16, #24, #25, #39, #52, #55, and #59 with select outfits.
Starting July 24th, American Girl will start selling Truly Me dolls and accessories in Brazil, exclusively at select PB Kids Boutiques (Portuguese site). The cost will be 700 reals (about $175 US).
Nethilia, The Admin
July 21, 2018 / Farewell, Tenney and Logan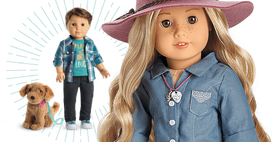 Today, American Girl announced that Tenney Grant and her entire collection (including Logan Everett) will be retired at the end of 2018. Her books (and possibly the mini doll in select locations) will remain available for purchase.
If there's something in her collection you've been itching to get, hop to it!
Nethilia, The Admin
July 31, 2018 / Farewell, Z and Gabriela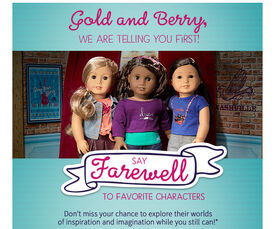 Today, announcement was set out to Gold and Berry Members that Gabriela McBride, Z Yang, and their collections (along with Tenney's collection announced earlier) would be retired at the end of 2018.
With Z's retirement, this currently appears to close the contemporary line for the foreseeable future.
Nethilia, The Admin
August 2018
August 11, 2018 / The American Girl Outlet and Exclusive Items
The new American Girl Outlet store opened this weekend in Hershey, PA. The outlet mostly stocks older, retired items; however, all dolls are full price.
Notably, some Outlet only exclusives for Truly Me have been released and are currently not available anywhere else.
Nethilia, The Admin
September 2018
Sept 5, 2018 / No Temporary Stores in 2018
American Girl has reported that they will not be opening temporary pop-up stores this holiday season, instead focusing efforts on promoting current stores and the newly opened outlet.
Nethilia, The Admin
September 6th, 2018 / Holiday Costco Bundles
Holiday Costco Bundles for the WellieWishers and Truly Me are starting to show up in stores. The bundles for the WellieWishers retail for $79.99 and include the following:
The Truly Me Ballet Barre and Outfit set retails for $69.99 and includes multiple pieces, many similar to those from Isabelle's Collection:
Headband
Hair bands
Leotard
Dance sweater
Tutu
Sequined wrap skirt
Tights
Legwarmers
Ballet Slippers
Water bottle
Ballet barre
Yoga straps
Mat
These bundles are only available at warehouse stores like Costco.
Nethilia, The Admin
Octoberber 2018
October 1st, 2018 / The 2018 Fall/Winter Release
New things for all the modern doll lines were released today, including new modern mix and match sets.
For Truly Me:
For the WellieWishers:
For Bitty Baby:
For Generic use:
Nethilia, The Admin
October 9th, 2018 / Costco Dolls and the Re-Release of Molly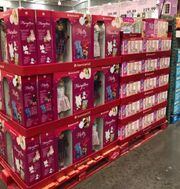 New Costco only bundles have arrived, including a first release of the BeForever version of Molly McIntire.
The bundles retail for approximately $119 and include a coupon to get the second volume of each doll's BeForever volumes.
It is unknown at this time if Molly will later be available through American Girl directly.
Nethilia, The Admin
October 19th, 2018 / More Costco Releases and the AG Rewards adjustments
The following sets are available at warehouse stores for the holiday season:

Horse and Saddle Set: a bundle of the retired Chestnut Horse with small accessories: saddle, bridle and reins, blanket, bristle brush, carrots and apple; $49.99.
Pet House sets return for $29.99:
Last Year's Kit Kittredge bundle: the doll, Read All About It!, meet hat, a modified red sweater from Kit's Photographer Outfit, Kit's Reporter Dress, and Kit's Reporter Accessories (minus photographs) for $129.99.
Bitty Baby sets: these include the doll and a unique layette set (tunic, leggings, diaper, booties, sleeper, bib, hat, blanket, rattle, bottle, and a layette suitcase) for $99.99.
Changes to the AG Rewards program were implemented starting October 1st.

The most notable is that Gold Members now earn 1.25 points per $1 spent, while Berry Members earn 1.5 points per $1 spent, allowing them to build to rewards faster.
Birthday gifts are now offered; these can be redeemed either online or in store with an online code e-mailed during the birth month.
A free tiara can be included with the use of American Girl Doll Salon once per year for Berry Members.
Also this year, qualifying purchases will activate a Holiday Passport. More details are on the article page.
Nethilia, The Admin
November 2018
November 25th, 2018 / Cyber Monday Sales
Cyber Monday sales have gone active for AG Rewards members with up to 60% off various items. Furthermore, $5.95 shipping is available on orders $100+ with the code CM2018.
Nethilia, The Admin
December 2018
December 4th, 2018 / Berry Reward Outfit for 2017
This year, the Berry level reward outfit is one of three previously released outfits:
Users have until December 12th to claim, and must use a code provided in e-mail. The limit is one outfit per account. Free shipping is included if nothing else is ordered with the single outfit.
Nethilia, The Admin
December 31st, 2018 / Blaire Wilson, Girl of the Year 2019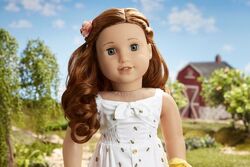 American Girl official press releases have gone out for Blaire Wilson, Girl of the Year 2019. Data has gone out to major news outlets, stating that she will have themes of balancing technology with offline activities, dealing with food intolerance, and living on a self-sustaining farm.
More information will be released tomorrow--it took AG a while to release the press data on Blaire. We here at the AG Wiki hope everyone has a safe start to 2019!
Nethilia, The Admin
Community content is available under
CC-BY-SA
unless otherwise noted.