January 2017
January 1, 2017 / Gabriela debuts, other new stuff
Gabriela McBride makes her debut as the first black Girl of the Year, here's the rundown of her collection.
For Truly Me:
There are also two new Williams-Sonoma items, the Popcorn Kit and Cookie Stamp Set.
Bitty Baby only got one outfit, the Hearts and Stripes Valentines Outfit. No items were released for BeForever or WellieWishers.
New stuff, new year, but the same old rules of the wiki apply.
AkaiKaze, the Other Admin
January 6, 2017 / Express Yourself with Gabriela / Gabriela's Meet Outfit Separate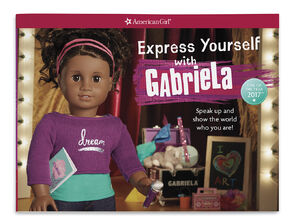 Information on Gabby's craft book, Express Yourself With Gabriela, have released on American Girl's publishing site. Like previous craft books, this one contains various activities focused on Gabriela's theme; her extra accessory include a prop microphone and poetry journal. There is no release date yet.
In addition, Gabriela's Meet Outfit is being sold separately through American Girl for $28. Customers who show record of a purchase of Just Like You 46 within recent years are being mailed codes to receive the outfit for free. The code is redeemable until March 31st.
Nethilia, The Admin
January 31, 2017 / Debuts at American Girl Place Los Angeles
If you happen to live in the Los Angeles area, the American Girl Place at The Grove is hosting a first look event for what is presumed to be the debuts of Tenney Grant and Felicity Merriman on February 16, 9am to 10am. (The description from the Los Angeles store page states, "you'll be among the first to see our newest contemporary character, and to welcome back a beloved historical character!" in the Upcoming Events section.) There will also be new products on display in addition to the character reveals. It should be noted this event is intended for adults and reservations are required, but children will not be turned away.
AkaiKaze, the Other Admin
February 2017
February 7, 2017 / Upcoming Modification to 18" dolls

Recent information from American Girl on their Facebook page ([1]) reveals that, starting in 2017, several dolls will be modified so that their underwear will be a permanent part of the cloth torsos. This will apply to Maryellen, Melody, Julie, Truly Me dolls, and upcoming contemporary characters (but not Tenney Grant). Official statement [2] is that the modification was made "for a variety of reasons, including consumer research that's shown that having the underwear fixed to the body will make play easier for some and will ensure the underwear is less likely to be lost or need to be replaced." They will continue to sell separate brief and underwear sets. This will be a rolling replacement among Truly Me and other dolls.
We will not discuss this on the wiki in detail (or any other upcoming dolls) before they are released.
ETA: A E-mail to Jezebel from American Girl includes the following addition, also citing cost issues:
The decision to make this change was made for several reasons, including our ability to continue producing a quality product without the price of our dolls going up. And because we learned from our consumer research that the new underwear design will make play easier for some children and will ensure the underwear cannot be lost, we hoped it was an overall benefit for most. Having observed for decades how girls play with our dolls, outfits, and accessories, we believe the change will not limit how a young girl imagines or interacts with her doll.
Nethilia, The Admin
February 13, 2017 / Images of Two New Characters on American Girl Site
A stop-motion video on the American Girl Play site reveals dolls of Gabriela, Tenney Grant, Logan Everett, Suzie Yang (Z from the Z.Crew videos), and an new unknown, possibly historical character. Information has already materialized for Felicity, Tenney, and Logan (and Gabriela was released on January 1st) but not a doll of Z or the unexplained new character (with what appears to be a whole new face mold).
As per the usual, until there is more information on any characters, we will not put up articles. We don't rumormonger and we don't tolerate those that do.
ETA: The American Girl Website has officially revealed that the previously unknown doll is Nanea Mitchell from 1941, as well as confirmed Suzie "Z" Yang. Article pages are up but more details are currently unavailable. We'll still come at you if you try to rumor-smear, and the pages are locked. Don't test the admins.
ETA 2: There is now a site showcasing all six dolls, and American girl is encouraging the use of the hashtag #ChooseYourCharacter on Instagram to promote all the characters. Tenney, Logan, and Felicity will release Thursday, Suzie "Z" Yang in April, and Nanea Mitchell this Fall around August.
As per the usual, until there is more information on any characters, we will not put up articles. We don't rumormonger and we don't tolerate those that do.
Nethilia, The Admin
ETA 3: American Girl confirmed on Twitter the specific dates for Suzie and Nanea's debuts - they will be released on April 27 and August 24 of this year, respectively.
AkaiKaze, the Other Admin
February 16, 2017 / Tenney Grant, Logan Everett, Felicity Merriman, and Other New Things
All lines got new products in the Spring Release. Tenney Grant, Logan Everett, and the collection have been released, launching the Contemporary Characters line:
Felicity has also been rereleased for the BeForever Collection with a starting collection:
Her items (minus the books) are only available online and at the flagship AG stores.
Select BeForever characters received items:
For WellieWishers (Notably, free shipping remains on the line.)
For Truly Me:
Bitty Baby's releases:
Nethilia, The Admin
March 2017
March 3, 2017 / WellieWishers MegaBlox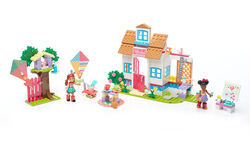 MegaBloks based on the WellieWishers have been released. This includes individual dolls as well as construction playsets.
MegaBloks Garden Friends Collection (individual dolls)
MegaBloks Garden Party (with Ashlyn)
MegaBloks Carrot's Hutch (with Willa)
MegaBloks Cheerful Carriage (With Camille)
MegaBloks Garden Theater (With Emerson)
MegaBloks Playful Playhouse (with Willa and Kendall)
These will be sold wherever MegaBlox (which have changed to the name MegaConstrux) are available.
Nethilia, The Admin
April 2017
April 10, 2017 / 25% off BeForever Items
From April 7th until 19th, select items in the BeForever collection are 25% off through the American Girl website and at AG stores. This does not include any recent releases.
Nethilia, The Admin
April 12, 2017 / Nanea Book Titles
The titles of Nanea Mitchell's Central Series books have appeared on Amazon:
There are also brief summaries of each book.
Nethilia, The Admin
April 18, 2017 / Z on Chapters
Z's initial collection has debuted on Chapters (a Canadian American Girl seller). Here at A*G Wiki, we would like to wait for the formal release through American Girl in about a week before any descriptions go up.
Nethilia, The Admin
April 27, 2017 / Z's Release (Plus Extras)
Z Yang and her collection have released:
Tenney's third book, Tenney Shares the Stage, and Gabriela's second book, Gabriela Speaks Out also released today, as well as her craft book, Express Yourself With Gabriela.
For the WellieWishers, the books released are The Mystery of Mr. E and The Rainstorm Brainstorm. (WellieWishers books are now also available in three-book sets.)
Advice books released are School Rules! Writing, School Rules! Projects, and A Smart Girl's Guide: Getting It Together.
Nethilia, The Admin
May 2017
May 10, 2017 / First Book in the Like Sisters Series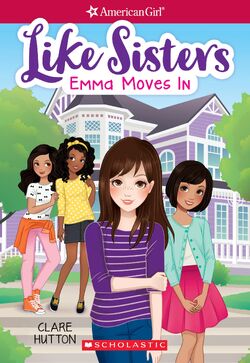 The cover of a book in the "Like Sisters" series, Like Sisters: Emma Moves In was released today on Amazon, as well a a light summary. As of right now no further information is available about future books or items in the series (though the book being numbered #1 implies future books). The book is set for release this August.
Nethilia, The Admin
May 22, 2017 / No More "Permapanties"
In what can be seen as a move similar to the history of New Coke and the Windows 8 start screen, American Girl has decided to discontinue the permanent underwear that had started to be released on Truly Me dolls (and would have been released on three of the BeForever Characters), following several weeks of fan backlash and complaint. This was officially announced on the American Girl Facebook page, along with information that the most recent "boutique-style" box design would be reinstated (though it will remain for Contemporary Characters and through some of the Truly Me dolls until stock is depleted).
Existing doll inventory with permanent sewn-in underwear will still be available in stores until stock runs out. Any customers who have previously purchased dolls with permanent underwear can opt to have their dolls reverted to the old body design with a one-time no-cost exchange through American Girl (instructions here).
June 2017
June 3, 2017 / New Books, Possible GotY 2018
New books have started to appear at various book seller websites, namely Amazon and Barnes and Noble:
There is no further detail whatsoever on the Girl of the Year 2018, though the information implies that, while Gabriela will remain past the end of the year, another character will be released.
Nethilia, The Admin
June 13, 2017 / New Historical Series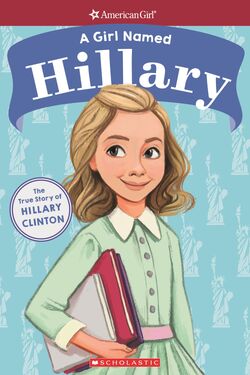 Two new series of books have popped up that will be under the American Girl Header.
The first is "Real Stories From My Time." These books are focused on actual events and occurrences that happen during a BeForever character's timeline. The first four books are:
Secondly is the "A Girl Named Series". These will be full-illustrated biographical books on the childhood and history of real historical women, mainly focused during their childhood. The first two known are:
A Girl Named Hillary: The childhood and life of Hillary Clinton, the first woman to be nominated for a major political party for president.
A Girl Named Rosa: The childhood and life of Rosa Parks, who became famous for protesting the segregation of the Montgomery Bus system in Alabama and made a name for herself during the start of the Black Civil Rights movements of the 1950s.
As usual, we strive for neutrality and respect here, as well as no rumor-monging about new characters, retirements, or designs.
Nethilia, The Admin
June 22, 2017 / The Summer Release and A Book Sale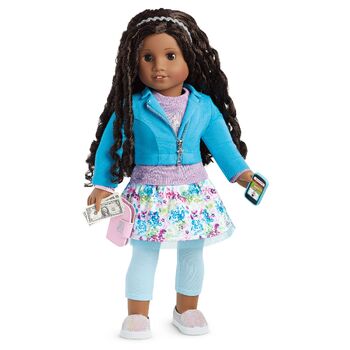 The Summer Release of new items was made, and there was a lot for the Truly Me Line. Firstly, a new meet oufit has been released; as it was not given an official name, it's being called the Truly Me Outfit here until as such an official name is given. Secondly, three new dolls have been added: Just Like You 67, Just Like You 68, and Just Like You 69. Thirdly, the Bald Dolls have been put into the line openly online, as Just Like You 70, Just Like You 71, Just Like You 72, and Just Like You 73.
Other items for the Truly Me Line:
For the WellieWishers:
For Bitty Baby:
For Gabriela:
Generic items released:
No BeForever items or items for Z were released.
Additionally until June 25, AG is offering buy one, get one free on select books, including BeForever classic series volumes, Historical mysteries, and activity books.
Nethilia, The Admin
June 23, 2017 / AG Rewards Only Outfits for Truly Me and Bitty Baby, Upcoming TRU only WellieWishers Outfit, 18" Custom Line information, and a Reminder on Policy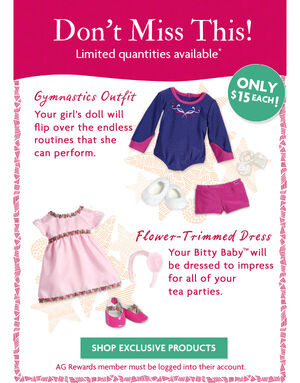 An upcoming WellieWishers outfit will be available as a Toys R Us Exclusive. Images have been seen but no name has been confirmed.
Information is starting to release about a design your own American Girl 18" doll. So far what is known is that the option will be available near the end of July. For $200 (with free shipping) a person may purchase a customized doll, customized outfit and accessory set, keepsake doll box, designed t-shirt, and a six month (three issue) subscription to American Girl Magazine.
The Administration here would also like to take this time to remind all users that we here at the A*G Wiki do not care if you are new to editing or excited about getting an article/image up first if it is poorly written or improperly done. You can and will be blocked for both violations for a minimum of a week. Read our Policies, because you will be subjected to them from moment one.
Nethilia, The Admin
ETA: American Girl has recently stated that they will no longer be able to do head replacements on Lindsey dolls through the American Girl Hospital as they have exhausted the supply. Other repairs may continue. (Edit by AkaiKaze: American Girl's Twitter statement on Lindsey.)
July 2017
July 11, 2017 / Toys R Us Exclusive Wellie Wishers and the Create Your Own Line
More information has come out about the Create Your Own line both online and through releasing catalogs. The line--unlike Truly Me--will allow purchasers to design and purchase custom dolls themselves. Very little has been released; the line will release fully at the end of July.
I will take this moment to reconfirm that we are a wiki about information on American Girl, not about personal product consumption, purchase, or creativity. We will not allow any unneeded images, articles, or wasteful data on a person's specific created dolls, and this does not change with the launch of the Create Your Own Line. Any articles or images that appear to be about about documenting anyone's collection (beyond information on personal information pages) are not done or allowed here. Blocks will be utilized if it becomes necessary.
Nethilia, The Admin, (who doesn't care how cute your pixie-cut doll with blue eyes is, she's not going on the page just to say you made her).
July 24, 2017 / More on the Create Your Own Line, including Launch Day
A video about the Create Your Own line has been released by American Girl on their YouTube channel. It shows some aspects of the online designer, as well as some of the possible combinations of tones and hairstyles. This has been updated in the article.
The line is scheduled to launch August 8th in flagship stores and online. ETA 7/28/2017: Press Release can be found here: American Girl Debuts Custom Doll And Apparel-Making Experience With Never-Before-Released Options And Over One Million Design Combinations
Nethilia, The Admin
August 2017
August 1, 2017 / Nanea Mitchell Pre-Release for Rewards Members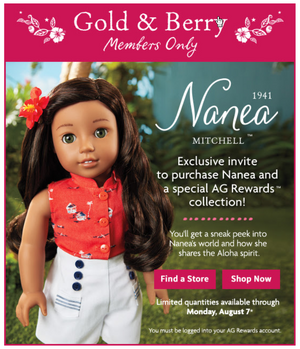 Like Melody Ellison last year, a pre-release for Nanea Mitchell has come out for AG Rewards members, "Nanea's AG Rewards Collection." However, this year the offer is exclusive to members that have reached at least the Gold Rewards Tier.
This collection, costing $216, consists of the following:
This bundle is delivered in a special AG Rewards box (much like Melody's) and can also be obtained at an American Girl Place if a person can prove their reward tier level to a personal assistant. Shipped orders have free shipping and will arrive before August 18th, a week before Nanea's official release on August 24th. The offer is only until August 7th.
Just like Melody before her, this does mean that there will be some people who will have Nanea and some of her items before the official launch. However, quality here doesn't change. Write well-written contributions for new or existing articles, give good detail pictures, and don't try to "first" this.
Nethilia, The Admin
August 8, 2017 / Launch of the Create Your Own Line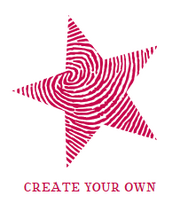 The Create Your Own line has officially launched by American Girl, including the following outfits and accessories for the line:
Also launching is the online Design Studio, allowing the designing of outfits on templates:
Designed can be stored with an active account on the website. Orders can be placed at any time, but custom dolls that use components that are not available will be placed on back order and not shipped until created. Backorders are listed as far as November for delivery.
Heed warnings previously posted about the Create Your Own Line.
Nethilia, The Admin
August 21, 2017 / Nanea's Release!
Nanea Mitchell is officially out today! Along with the doll, the collection includes:
American Girl is also partnering with the Red Cross to accept donations. Release activities will be available at several American Girl Place locations starting August 25th and over the weekend.
The other BeForever characters were not left out either:
In the wake of Nanea's release, the collections of Addy Walker and Samantha Parkington have, like Felicity Merriman, become available only at flagship stores and online, rather than retired.
Every line received something in this release.
New things released for Gabriela's Collection:
For Z's Collection:
For Tenney's Collection:
For Truly Me:
For the WellieWishers:
For Bitty Baby:
Other New Books:
Nethilia, The Admin (who hopes you're safe watching the eclipse today!)
September 2017
September 5th, 2017 / Molly BeForever Volumes, Historical Mystery Books, and More Books Found; Plus, A Warning Against Vanity Articles
Recent finds on Amazon.com reveal three new volumes for Molly McIntire, in the same vein as the remade books for Felicity and all other BeForever characters:
The books are due for a release in February 2018. While this, like Felicity, is a portent of a potential rerelease of the Molly doll and her inclusion in BeForever, we don't want to speculate before any official announcements.
Other Historical Character Mysteries and titles coming out include:
The Legend of the Shark Goddess for Nanea Mitchell (her first!)
A Girl Named Misty: The True Story of Misty Copeland [6]
Jasmine's Big Idea (Forever Friends #1) [7]
Madison's New Buddy (Forever Friends #2) [8]
Zoe On the Air (Like Sisters #3) [9]
American Girl: Around the World Cookbook
As books are released and series are connected and more is revealed, we will give more information.
Administration Note: "Vanity Articles"are now a legitimate reason for a page or file to be removed and/or users to be blocked for a length of time. Remember that this wiki is not about anyone's personal relations to a character, their resemblance to any dolls, or any personal characters created.
Nethilia, The Admin
October 2017
October 3rd, 2017 / WellieWishers and Tenney-Themed Clothes at Kohl's; Costco Bundles
American Girl continues its partnership with Kohl's stores; specifically, selling items in Tenney's Collection (as well as Tenney and Logan dolls), WellieWishers (including dolls), some Truly Me outfits, and some books and MegaConstrux sets. Kohl's-only matching pajama sets for children have been made available in recent weeks: two styles of legging-and-tee sets, two styles of pajamas, three sets of gowns, and two styles of robes. These each come with matching 18" size doll pajamas.
Also available only at Kohl's are some WellieWishers outfits: two sets of pajamas (names to be confirmed) and the Sparkling Snowflakes Outfit.
With the approach of the holiday season, Costco has released some bundles: along with last year's Sleepover Set, they have released a Salon and Spa Set for $39.99. Other bundles have not been confirmed.
Nethilia, The Admin
October 12, 2017 / More WellieWishers Items Released.
This is a backdated listing. This announcement was made 12/20/2017.
A second release of WellieWishers items was made, adding more holiday themed outfits to their collection:
The following was released for children:
Nethilia, The Admin
October 17th, 2017 / American Girl and Costco, 2017
More Costco-style bundles have been confirmed for the holiday season through Costco (and possibly other large-warehouse style stores).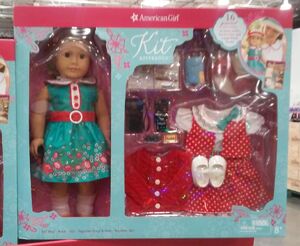 Truly Me Desk and School Set: Kitten Sweater, Playful Print Skirt, unique plastic headband, unique blue flats, unique denim backpack, unique version of the Flip-Top Desk (with chair), folder, two pencils, three sheets of lined notebook paper, two sheets of graph paper, protractor, two calendars, and times-tables sheet for $69.99.
Pet Sets: These three sets include a pet (the new Scottie Dog and rereleases of the (Preppy) Sheepdog and Gray Cat/Preppy Kitten). Each comes with the Friends Forever themed pet book, a collar, toy, and stickers and retails for $29.99.
Camille comes with a blue sea-theme trunk with matching stickers, the seashell crown and seaweed skirt, and a seashell accessory;
Ashlyn comes with a purple butterfly-theme trunk with matching stickers, the butterfly wings and headband, and flower-wand;
Willa comes with a red wildlife-theme trunk with matching stickers, the owl mask and wing cape, and rose scepter;

Each includes the same style tulle skirt.
WellieWishers Book Bundles: Each bundle includes three of the WellieWishers books and a unique-styled purse for $29.99:
BeForever Book + Mini Doll sets: All three books, the Mini doll, a unique stand, and a patterned bookmark for $29.99. These now include bundles with Nanea Mitchell.
Nethilia, The Admin
November 2017
November 14th, 2017 / Berry-Level Gift, 2017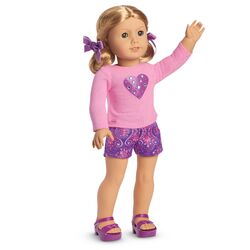 This year, as a reward to Berry Level Members of the AG Rewards programs, American Girl is offering a free outfit. Members must have achieved Berry Level by October 31, 2017. Users must log into their account or call Customer service and, using a unique code, may select from the following outfits:
The order must be placed from November 14 to November 30th. Only one outfit may be purchased for free per household per account. The order includes free shipping in the continental US (as long as not bundled with any other purchase). It is unknown if these outfits will be allowed for open purchase at a later time. The outfits cannot be returned or exchanged later.
(On another note we missed, Canadian users are no longer able to have AG Rewards accounts; Any non-US accounts were closed by Oct 9th.)
Nethilia, The Admin, Qualifies for Free AG Stuffz
November 20th, 2017 / Rumors, Leaks, and Hearsay - Don't DO It!
It's the time of year where rumors about new products, especially new Girls of the Year, start leaking. And it's that time where people might be tempted to post unconfirmed details on characters that might be coming out. So the Administration is taking this moment to reiterate the policies against rumors, leaks, and hearsay.
American Girl is an active business with constant new items. There are regular releases, re-releases, new items, new characters, new books, and/or new details. This means that leaks happen often, especially when people obtain items early or off online auctions from secondhand sources. However, we here at the A*G Wiki has made it our policy to not allow any information on any topic from any non-legitimate sources. The only information we accept are from sources that can be verified.
Images, names, and descriptions of characters and products found through searches across the internet--even if they are likely legitimate direct stock images--that are posted by anyone other than AG or press releases by AG are not verified. Until AG themselves release the images or names, they are not verified. We here at the A*G Wiki respect the company enough not to show images or start articles about characters that they haven't openly released yet.
Violate this rule even once and you'll have a six-month block the first time. We're not going to play nice. Be patient or we'll make you be patient.
Nethilia, The Admin, Isn't Gonna Let Leaks Go
December 2017
December 28th, 2017 / Luciana Vega, Girl of the Year 2018
On Good Morning America today, Luciana Vega was officially announced as the 2018 Girl of the Year. Luciana Vega's collection focuses on STEM (Science/Technology/Engineering/Mathematics), including a large emphasis on space travel and exploration.
The admins understand the excitement over the new Girl of the Year, and articles have already started to be rolled out; we will post about all that is available on January 1st. However, no articles should be attempted fully until release, and we require high quality descriptions and discussions. Secondly, Gabriela appears to continue to be available for some time into 2018, so please do not mark her or her collection as retired until it is clear she has been discontinued.
Also some new items have released in the stores, but again we will be discussing these on the 1st when we have clean pictures.
Nethilia, The Admin
December 31th, 2017 / Wiki Code and You
I've seen it too many times in too short a time recently that people are miscoding internal article links. When you're linking to another article, wiki internal article link code should be used. The
They are coded [[Article Title|linked like this]] (wikicode),
and not [http://www.long-whole-url-of-wiki.com/wiki/Article_Title like this] (which should only be used for linking to off-wiki pages.)
Double Brackets. Vertical line to make the change to text if needed. Not the entire URL in the browser window. Only use the off wiki link code for links that go off the Wiki. (Wikipedia refs are done using [[Wikipedia:Article name on Wikipedia|text goes here]].)
There will be three day blocks if this is done by anyone. The Sandbox is there to see how codes are used before edits are done, and I just added info about coding link. Editor time is wasted fixing this repeatedly. Consider this the official warning.
Nethilia, The Admin
Community content is available under
CC-BY-SA
unless otherwise noted.