January 2015
January 1, 2015 / Grace's debut and other new stuff
Grace Thomas has officially debuted, along with the first part of her collection.
To promote Grace's debut, American Girl has launched a yearlong fundraising initiative, "For Goodness, Bake!", to support Share Our Strength's No Kid Hungry campaign to end child hunger in America. Those who register for the fundraising campaign (and it should be noted you must be 18 or older to register) will have a chance to win the Grace doll and meet book, the French Bakery, Bistro Set, and the matching girl's apron from Grace's Baking Outfit.
Additionally, American Girl is accepting donations on behalf of No Kid Hungry.
The My American Girl line got some new stuff:
Bitty Baby only got one new outfit:
For Bitty Twins:
--AkaiKaze, the Other Admin
ETA: Excitement is always high during a new release, but we still expect the best of you. Edit properly. Nethilia, Admin of Logic
January 21, 2015 / "Personal Pictures" mean Personal, not someone else's.
Well, that came up, so now it's been addressed on Good Article Images and You!.
Do not take personal pictures from alternate sources such as eBay Auctions or other people's personal albums. Personal pictures must be taken by the uploader. Images found to be sourced to an eBay auction or other non-personal means will be removed. It's image theft. (The only noted and admin-approved exception at this time is the image on the American Girl 25th Anniversary Shirt as the item was given only to employees and so is quite rare.)
C'mon, people. Take the pics yourself. You know better.
Nethilia, Admin Who Can't Believe That Came Up
February 2015
February 12, 2015 / New stuff for all lines save Grace
Every line save Grace got new items.
For Addy:
For Rebecca:
For Kit:
For Kaya:
For Julie:
For Samantha:
New Historical Character Mysteries for Samantha, Kit, and Caroline have been released:
Kit's Candy-Making Set, Rebecca's School Play Set, and Julie's Dance Set were broken into two separate sets: Kit's Springtime Outfit, Kit's Homemade Sweets, Rebecca's Butterfly Costume, Rebecca's Stage Makeup, Julie's Funky Flower Outfit, and Julie's Disco Accessories. Kaya's Jingle Dress of Today II was released without accessories as the Modern Jingle Dancer Outfit.
The My American Girl line got the following new items:
Bitty Baby got the following new items:
Bitty Twins got the following new set:
The same rules, as always, apply when it comes to new releases and articles: put some effort into writing your descriptions. We won't hesitate to remove poorly written edits or ban people who make repeated efforts into not putting effort into writing proper descriptions.
--AkaiKaze, the Other Admin
February 20, 2015 / Book Leaks -- Truly Me and BeForever Books
Several new books have shown both on the American Girl Publishing site [1] and Amazon.com. First are three new modern-focused books:
The books are due to be released May 2015. Along with new covers for some older craft books, this looks to be a revamping of the modern doll line, much like the switch to My American Girl. (Here at the Wiki we will still keep the category named how it is, due to the tedious tasks of redoing the category on every related page. We believe you're smart enough to know what is what.)
Josefina is finally getting her My Journey book, Song of the Mockingbird: My Journey with Josefina this August.
There have been leaks for three other books written by Valerie Tripp: The One and Only, The Sky's the Limit, and Taking Off. These look to be a new set of BeForever Character books; they are categorized on Amazon.com as set in the 1900s and to be released this August. While this is exciting news, we cannot tie these three titles to a BeForever Character or know details on the books and which is which. So please do not make articles about them yet.
Nethilia, Admin who doesn't like Rumors.
April 2015
April 2, 2015 / American Girl Nashville grand opening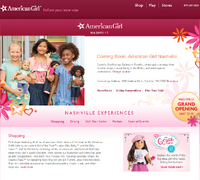 While the Nashville store page isn't present via American Girl's store search function, the page is live, with the grand opening set on the weekend of May 30 and 31.
A screencap on the right has been provided in the event American Girl takes the page down between now and whenever they feel like putting it back up again, probably closer to the scheduled dates.
--AkaiKaze, the Other Admin
ETA: It should be noted that Nashville's grand opening dates in May was first noted in a Wisconsin State Journal article with regards to staff layoffs. The same article also quotes that the AG store in Scottsdale is set to open sometime in August.
April 23rd, 2015 / Song of the MockingBird and Maryellen on the AG Publishing Site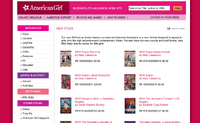 American Girl's Publication site has shown a category under the BeForever column, showing the character name "Maryellen" (one word, no spaces) between Kit and Julie chronologically. Nothing is shown in the category when clicked on, but the shell of the page is visible. There is also the category "Truly Me" in place of "My American Girl." A screencap has been provided in the event American Girl edits the page to prevent leaks or questions.
The cover for Song of the Mockingbird: My Journey with Josefina has appeared on AG's Canadian distribution site, Georgetown Publications. This have been placed on the article's page.
Again, our Wiki does not accept leaked information that is not on official sites. So no pages or add ins (and certainly no images!) until this data is more solid.
--Nethilia, who you best not finna try
May 2015
May 4th, 2015 / Caroline Archival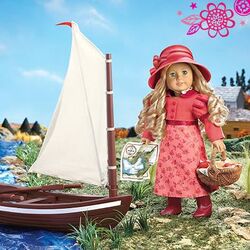 American Girl's Facebook and Instagram account have made the official announcement that Caroline Abbott and her entire collection are to be archived. This will likely happen by August to allow the release of Maryellen. Like Marie-Grace and Cécile before her, Caroline had a three-year run.
This, unfortunately will leave a large gap between 1764 and 1824 and a large emphasis on the 20th Century. Will there later be a rerelease of Felicity or a new Historical/BeForever to later fill this? Time will tell. For now, if you don't have her or her things, start to get them before they leave!
--Nethilia
May 13, 2015 / Maryellen officially announced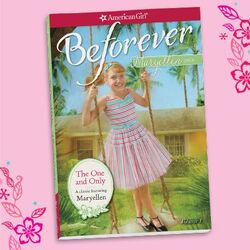 American Girl's Facebook account just revealed the first book for their newest BeForever character, Maryellen Larkin. There is still no information as to what setting her books will be set in or what her themes will be.
On this wiki we take a zero-tolerance approach on leaked information that did not come through official channels. That goes for speculating and rumor-mongering.
--AkaiKaze, the Other Admin
May 21, 2015 / Truly Me debuts
So My American Girl got renamed to Truly Me. Here is the rundown on the new stuff.
New dolls:
New outfits:
New furniture and accessories:
In other news related to My American Girl/Truly Me, there is a Truly AwesoME Sweepstakes for a chance to win various prizes. The contests end August 12 and is eligible to girls ages 8-13 living in the United States who have obtained their parents/guardian's permission to participate.
Additionally, Innerstar University will be closing their doors on November 5 later this year.
As for Grace, her third book, Grace Makes it Great, finally gets released but no outfits or accessories for the time being.
Be sure to write up proper descriptions and follow the policies. We don't suffer fools gladly on this wiki.
--AkaiKaze, the Other Admin
June 2015
June 19, 2015 / Grace Release and Sneak Peak for Summer Release Items
Several items released for Grace's collection, rounding it out for the year:
Several items are clothes and items for girls:
A sneak peek of new BeForever, Bitty Baby, Bitty Twins and Truly Me items. The BeForever release will be focused on pajamas and all new bed sets--so if you don't have older ones, pick them up if you still can.
While this is a peek, it's not officially released, so be prudent. We're watching you.
Nethilia, Admin with Attitude
June 25, 2015 / Summer release
Grace's movie is out, so go watch that. Her stuff came out last week.
As to everyone else, nearly all the BeForever save Samantha and Caroline got new bedtime sets:
Kaya:
Josefina:
Addy:
Rebecca:
Kit:
Julie:
For Truly Me:
Bitty Baby only got one outfit:
For Bitty Twins:
--AkaiKaze, the Other Admin
August 2015
August 3rd, 2015 / Maryellen Debut, Scottsdale Opening, and Sales
Data on the American Girl site shows debut activities in stores starting August 27th through the 30th, helping to solidify that August 27th will be her official release.
The Scottsdale American Girl Bistro and Boutique Grand Opening has been confirmed for Aug. 22-23.
A current sale on American girl items on the site has up to 40% off select items, including select Caroline items, Fashion Show exclusives, and straggling Isabelle items.
The American Girl publishing site has revamped, with more detail on Maryellen's books and Mini doll. Notably, pre-orders for her two Central books and the Journey book books on Amazon.com are available and up to half off.
Nethilia, Admin
August 11, 2015 / Maryellen leaks
Some enterprising (or perhaps impatient) fan managed to find product pages for Maryellen's Collection earlier today on AG's online store, and unsurprisingly AG has since pulled the links down.
Unlike Grace's second release earlier this year in which her product pages appeared a few days prior to release and AG let it slide, AG clearly did not intend for Maryellen's pages and images to be live on the store at this time. While we do have the article titles set up for Maryellen's collection, the articles themselves will not be created until Maryellen is released. Also, anyone caught uploading leaked images will be banned. The last thing anyone wants on this wiki is to be in legal trouble with American Girl.
--AkaiKaze, the Other Admin
August 24, 2015 / GOTY 2016 on Amazon, BeForever 2016 as well
Amazon has put up listings for GOTY 2016 with the following book titles.
The author for the first two books is Lisa Yee, who previously wrote Good Luck, Ivy and Kanani's books, and GOTY and Camila is co-written between Lisa and another author, Kellen Hertz, so there is a possible chance GOTY 2016 may be a girl of color. All three books have Sarah Davis as the illustrator.
The only info that can be found is in GOTY and Camila is GOTY 2016's city and state may be St. Louis, MO. There is no way to tell at this time which of the other two books is the meet book or what other themes GOTY 2016's stories may focus upon.
While there have been some substantial leaks on the Internet over the past few months, GOTY 2016's articles will not be created until December when more info is available. This wiki does not tolerate unconfirmed leaks or rumors.
--AkaiKaze, the Other Admin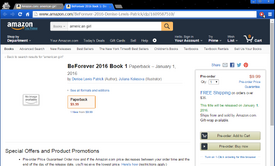 UPDATE: There is also a listing for a BeForever character book written by Denise Lewis Patrick supposedly releasing on January 1, 2016. While American Girl confirmed a while back a new BeForever character would be released in 2016, in light of Maryellen's pending debut, the release date for the book should be taken with a grain of salt. A screencap has been provided in the event the listing goes down.
August 27, 2015 / New things for every line, unless you're a Bitty Twin
After many, many leaks, Maryellen finally makes her BeForever debut. If you still haven't gotten Caroline, you should probably stop reading this and go get her right now.
For Truly Me:
Some people-sized gear are also available:
Aside from Maryellen, the Bitty Baby line got a major refresh, with not one, but three new meet outfits (bolded) that come with a code for a free song download. There is also a new, red-haired, hazel-eyed doll, and several dolls were retired.
Bitty Twins get nothing, they lose this round, cue the losing horns.
Seeing that I already had to temporarily lock the both Maryellen doll and the Maryellen character articles prior to her release because of people being too impatient for her product page to appear on the online store, and having seen a rather disturbingly high number of poor edits in the past month, it goes without saying: Write and edit properly or get your contributions deleted. Keep it up and don't be surprised if you get banned.
--AkaiKaze, the Other Admin
ETA, 8/29/2015: Some things were added for Josefina and Rebecca as well, but no one else. Rebecca's Costume Chest returns without the trunk as Rebecca's Costume Set. Josefina gets her own hair-styling set, her updated mini doll, and her My Journey book, Song of the Mockingbird: My Journey with Josefina.
Nethilia, Admin
September 2015
Sept 15, 2015 / New Temporary Store Locations
Craigslist hiring ads (example) has leaked that several temporary American Girl place locations are opening nationwide. The locations discovered so far are:
Fashion Valley Mall in San Diego, CA
The Shops at Mission Viejo in Orange County, CA
The Americana at Brand in Glendale, CA
Pioneer Place in Portland, OR
Fashion Show Mall in Las Vegas, NV
Fashion Place in Salt Lake City, UT (Murray, UT)
Castleton Square Mall in Indianapolis, IN
These are likely to be similar to the Hawaii Location, and only stay open for a limited time. ETA: all locations will be open until about January or February 2016, allowing for purchase of the next Girl of the Year.
Nethilia, Admin not for hire
November 2015
Nov 3, 2015 / American Girl and Costco Combined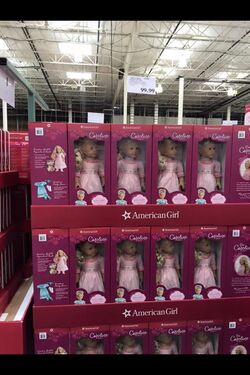 Many people have found several American Girl bundles through Costco for the holiday season. This includes:
Baking with Grace book set: includes extra apron, spatula, and mixing bowl along with original book items for $24.99.
BeForever Book + Mini Doll sets: All three books, the Mini doll, a unique stand, and a patterned bookmark for $39.99.
Various Truly Me craft and activity books (Doll Pets, Doll Boutique, and Doll Art Studio) including extra accessories, $24.99
The Ultimate Crafting Kit, which contains multiple supplies for crafting bracelets for dolls and children, $????
Pet House sets, including a new Fancy Cocker Spaniel Pet-House Set, $29.99
Gift Card sets of $100 for $79.99, an immediate 20% discount. The Gift cards can be used at stores or online.
Bitty Baby bundles for $99: includes a doll (in the now-retired Cuddly Star Sleeper) and the Deluxe Layette Set.
And most notably, Caroline dolls bundled with Caroline's Party Gown for only $99.99!
You must have access to a Costco Club Membership to take advantage of these offers; these are not available online.
Nethilia, who thinks discounts are awesome.
Nov 12, 2015 / American Girl YouTube Shorts

American Girl has released two short films on YouTube that are open for free viewing:
Articles about these short movies will go up soon enough.
December 2015
December 4, 2015 / GOTY 2016 leaked
It appears that GOTY 2016 was leaked via a Scholastic book fair ad that revealed her name is Lea Clark, as reported from Lissie and Lilly. There are also additional leaks on YouTube that we're not posting here because of our zero-tolerance policy for leaked images/media and it should go without saying we don't tolerate speculation as well.
AkaiKaze, the Other Admin
December 24, 2015 / Melody Ellison, BeForever 2016
The January 1, 2016, release date for the newest BeForever character's Volume 1 initially seen on Amazon appears to be genuine as people have managed to find it in actual bookstores. Information from Lissie and Lilly states the newest BeForever character is a girl of color named Melody Ellison and her era is 1960s. It is still unknown when Melody's other books will be released or when her doll will make its debut.
As excited as we are for Lea and Melody in 2016, we still do not condone leaked images or speculation on the wiki and any such malarkey will be swiftly dealt with.
--AkaiKaze, the Other Admin
December 30, 2015 / Grace Sell-outs and Lea Leaks
Grace Thomas has sold out online. So long!
Leaks have come out about Lea's collection. We here at the A*G Wiki remind you that, even two days to go, we don't upload images or data before the day of launch unless the source has been vetted as reliable. You can wait two days to have the data up.
Nethilia, Admin Not-For-Leaking
Community content is available under
CC-BY-SA
unless otherwise noted.