January 2014
January 1, 2014 / Isabelle's Launch
Isabelle Palmer has now officially launched out, along with the first parts of her collection:
And in a new first: rather than only specific outfits, they're pushing a mix and match option where the buyer can select components they want. This includes:
For My American Girl a few new things have launched:
The Charm-Keeper Necklace that was previously only available with a new doll has been released as available separately.
For Bitty Baby there's the release of the book Bitty Baby Has a Tea Party along with new items:
And for Bitty Twins:
Meanwhile some things have been retired.
A new year and yet there's old tricks. Excitement doesn't mean you can't do things right and follow the rules. If you don't behave, we'll block you.
--Nethilia Admin and Rule-Enforcer
February 2014
February 7, 2014 / AG Store coming to Tennessee
February 13, 2014 / New Spring Things
New things have come out for both Historical Characters, moderns, and the babies today!
For the Historical Collections:
The following are being advertised as limited edition sets:
For My American Girl:
Books:
For Bitty Baby:
For Bitty Twins:
February 17, 2014 / The Return of Samantha
The official American Girl Facebook has announced that this fall, Samantha will be re-released, along with some new changes for the Historical line. As of this time we don't know anything else or if Nellie will be accompanying her. No speculations, please.
February 21, 2014 / Leaks, leaks and MORE leaks
A certain Chinese blogger has posted beta pictures of what seems to be a possible 1950s historical, along with her wardrobe. I know you lads and lasses are either excited or eager to get them in the future and would like to spread the news about it, but keep in mind that these are leaked images, and as such are not allowed here on the wiki. We don't tolerate any speculation, and of course we don't want AG to go bonkers on us, so don't even think about uploading them here, comprende?
--Blake, Gruppenführer
March 2014
March 14, 2014 / Newly Designed Historical Books in August
New data on Amazon.com shows that American Girl multi-volume books are coming out in August. The volume books contain the Central Series, bundled in three-book sections. There are also "Choose Your Own Adventure" style books for almost all the currently available Historical Characters and box sets that will contain all three books.
* The Journey Begins: A Kaya Classic Volume 1
* Smoke on the Wind: A Kaya Classic Volume 2
* Roar of the Falls: My Journey with Kaya
* Kaya 3-Book Boxed Set
* Captain of the Ship: A Caroline Classic Volume 1
* Facing the Enemy: A Caroline Classic Volume 2
* Catch the Wind: My Journey with Caroline
* Caroline 3-Book Boxed Set
* Sunlight and Shadows: A Josefina Classic Volume 1
* Second Chances: A Josefina Classic Volume 2
* Finding Freedom: An Addy Classic Volume 1
* A Heart Full of Hope: An Addy Classic Volume 2
* A New Beginning: My Journey with Addy
* Addy 3-Book Boxed Set
* Manners and Mischief: A Samantha Classic Volume 1
* Lost and Found: A Samantha Classic Volume 2
* The Lilac Tunnel: My Journey with Samantha
* Samantha 3-Book Boxed Set
* The Sound of Applause: A Rebecca Classic Volume 1
* Lights, Camera, Rebecca!: A Rebecca Classic Volume 2
* The Glow of the Spotlight: My Journey with Rebecca
* Rebecca 3-Book Boxed Set
* Read All About It: A Kit Classic Volume 1
* Turning Things Around: A Kit Classic Volume 2
* Full Speed Ahead: My Journey with Kit
* Kit 3-Book Boxed Set
* The Big Break: A Julie Classic Volume 1
* Soaring High: A Julie Classic Volume 2
* A Brighter Tomorrow: My Journey with Julie
* Julie 3-Book Boxed Set
There is little detail on the "My Journey" books and so far there are no books listed for Marie-Grace, Cécile, or the other currently retired characters.
--Nethilia Admin
April 2014
April 2, 2014 / American Girl Specialty Boutiques grand opening
For Canadian fans of American Girl: Indigo Books and Music has announced their grand openings for the American Girl Specialty Boutiques in Toronto and Vancouver is scheduled for May 3, 2014. More information can be found at Indigo's American Girl page.
--AkaiKaze, the Other Admin
May 2014
May 9, 2014 / BeForever Covers Revealed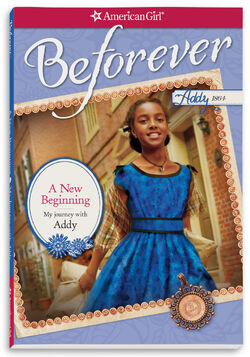 The covers for the revamp of the Historical Characters line have been uploaded to the American Girl Publishing website. The line is being renamed "BeForever", consolidating the Central Series into two-volumes covering three books each.
The "My Journey" books appear to be a Choose-Your-Own Adventure style book for the characters receiving them. The covers have shown new outfits for several characters. There is still no detail being shown for Cécile, Marie-Grace, or any retired characters other than Samantha (who is being rereleased).
Much like when "Just Like You" was renamed to My American Girl, the Administration will likely be editing articles to reflect new names and designations, but not redoing the whole category if at all possible due to size and imprecision. Also while there have been leaks of outfits and information, we do not put up non-official pictures or rumors.
--Nethilia Admin
May 21, 2014 / The Retirement of Ivy, Ruthie, Cécile, and Marie-Grace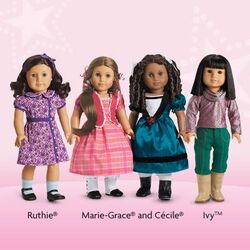 It was officially announced on the American Girl Facebook page that the characters Ivy Ling, Ruthie Smithens, Cécile Rey, and Marie-Grace Gardner will be retired. Quantities of the dolls and items in their collections are limited. This marks the official end of the Best Friends line that was started in 2004 with Nellie O'Malley.
With this news, Cécile and Marie-Grace have the distinction of the shortest run ever for a Historical Character withe about three years in total.
--Nethilia Admin
June 2014
June 4, 2014 / American Girl Scottsdale
American Girl announced on their official Facebook page they will be opening a new store at Scottsdale Quarter in Scottdale, AZ.
--AkaiKaze, the Other Admin
June 30, 2014 / Sellouts, New Things Released, and the Countdown to BeForever
A catch up on what's been happening in and with AG. First of all, many new things were released for My American Girl, Isabelle's collection, and the Bitty Babies and Bitty Twins.
For Isabelle:
On June 1st the digital story Isabelle in the City was released and is available on iTunes and Amazon.com.
For My American Girl, a new doll, My AG# 61 was released, as well as the following items: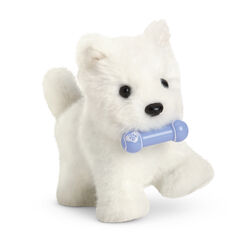 Coconut received a makeover that restored magnetic toys and allowed limbs to be posed. All older pets and a majority of the older sets were retired and replaced with nameless pets: the Chocolate Lab Puppy, Dalmatian Puppy, Apricot Poodle Puppy, Corgi Puppy, and Himalayan Kitten. New items for modern pets include the following:
For Bitty Baby:
For the Bitty Twins:
The Purchase With Purchase at stores is the Beach Dress and Hair Accessory at $16 with a $50 or more purchase. The Beach Cabana Set is a store-exclusive set.
Cécile and Ruthie are no longer in stock. Ivy's Meet Accessories have also gone out of stock, which means there is no longer an option to bundle the doll with them. Several outfits and items from all three collections have also gone out of stock.
BeForever will officially launch on August 28th, bringing full changes to the Historical Characters; stores will be holding launch activities the first full weekend from August 28th to 31st. American Girl has released several promotional videos on the official Youtube Channel [1]. Even in excitement, we expect maturity and respect in articles as we transition to a new era in American Girl Historicals.
--Nethilia Admin
July 2014
July 31, 2014 / Girl of the Year 2015
Amazon has listings for Girl of the Year 2015:
It appears GotY 2015 will have a culinary theme to her collection and she is from Massachusetts. Mary Casanova is the author of both books. It need not be said this wiki has a zero-tolerance approach to speculation/leaks of any sort.
--AkaiKaze, the Other Admin
August 2014
August 21, 2014 / Girl of the Year 2015 update
Amazon has listed a third book for GotY 2015 - however, it has a May 2015 release date. This marks a departure from Isabelle's release as her three books were released simultaneously.
August 28, 2014 / BeForever Launch
BeForever has now launched officially! Samantha Parkington has been released from the AG Archives, and she and the current Historical Characters have received all new books and items, including new meet outfits and accessories for Addy Walker, Julie Albright, Rebecca Rubin, Kit Kittredge, and Josefina Montoya. All the new meet outfits are currently available separately, along with inspired modern outfits for girls.
For Samantha:
The Lacy Parasol from Marie-Grace and Cécile's collection became part of Samantha's Collection.
For Kaya:
For Caroline:
For Josefina:
For Addy:
The Crinoline and Chemise from Marie-Grace and Cécile's collection became part of Addy's Collection.
For Rebecca:
For Kit:
Kit's Typewriter Set was rereleased.
For Julie:
All the Mini Dolls have been changed to all-vinyl.
American Girl will be inspiring an episode of Project Runway on September 18th, 2014.
Even in excitement, we expect maturity, accuracy, and proper respect in all our BeForever articles. Don't get blocked for bad descriptions and articles!
--Nethilia Admin
September 2014
September 3, 2014 / American Girl Charlotte grand opening and American Girl store in Hawaii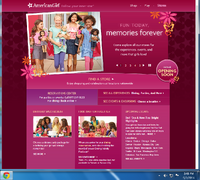 The Charlotte Business Journal reports American Girl Charlotte has its grand opening scheduled on October 11.
American Girl themselves seem to have plans to open a store in Hawaii as the post announcing a location's store mentions Hawaii, after Charlotte and Orlando, on the American Girl Stores' page, as seen in the accompanying screencap. This may be just a mistake or a possible unintentional leak on their part - unless an independent, verifiable third-party source is found or American Girl confirms it through any of their official channels (Facebook, Twitter, YouTube announcement), a possible store opening in Hawaii remains just a rumor.
--AkaiKaze, the Other Admin
UPDATE, 9/4/14: The Hawaii store has now been confirmed: American Girl opening first Hawaii store at Ala Moana Center next month The Hawaii store is a temporary boutique to test the waters in the Honolulu market and determine if a permanent location will do well. At present, the store is due to be open from October 4, 2014 through April 2015.
--Nethilia, admin
September 17th, 2014 / Free Shipping and Classic Meets
Use the code CELBRATE through September 22 to get free shipping on any order $50 or more.
The older Meet Outfits for Addy, Julie, Rebecca, Josefina, and Kit are currently available through American Girl, sans any hair accessories. These have been listed here and through American Girl as "Classic Outfits."
--Nethilia, admin
October 2014
October 16, 2014 / Holiday Releases and Free Shipping
The holiday releases for My American Girl, Bitty Baby and the Bitty Twins came out on October 9th, as well as one last item for Isabelle's collection.
For My American Girl:
The current Purchase With Purchase at American Girl Place is the Sparkle Bow Sweater and Headband.
For Bitty Baby:
For the Bitty Twins:
Also, until 11/25/14, get free shipping on an order of $100 or more with the code "BESTGIFT".
--Nethilia, admin
October 30, 2014 / American Girl in Mexico City
American Girl announced on Facebook three Specialty Boutiques will be opening at El Palacio de Hierro in Mexico City in summer 2015.
--AkaiKaze, the Other Admin
December 2014
December 1, 2014 / Another day, another leak...
Images of what appears to be a meet book, and more recently, a mini doll, for GOTY 2015 have surfaced on the interwebs. It does look authentic and all, but before you lads and lasses jump the gun and upload images and/or other speculation here on the wiki, please be reminded that we CANNOT accept leaked images or info about beta or pre-release media unless in certain circumstances. We don't want AG or Mattel to lay the hammer on us, right?
--Blake, the Gruppenführer (well, sort of)
December 26, 2014 / Grace's collection leaked
Recently images of Grace's collection as well her first two books have appeared on the Internet. American Girl is also ramping up Grace's promotion via a special website as well.
It cannot be stressed enough that any sort of foolishness will not be tolerated on the wiki.
--AkaiKaze, the Other Admin
December 27, 2014 / Last chance on Isabelle
In case the year has passed you by and you haven't gotten around to grabbing Isabelle's items for your collection, some of her items have come back in stock on American Girl's online store:
Those who missed out when these items sold out the first time would do well to grab them before Isabelle and her collection is retired.
--AkaiKaze, the Other Admin
Community content is available under
CC-BY-SA
unless otherwise noted.