January 2012
January 1, 2012 / Welcome, McKenna!
McKenna Brooks has officially released, along with her collection so far.
Additionally, new My American Girl and Bitty Baby things have been released.
A new year doesn't mean leaving behind the old policies! Be sure to take a moment and read the various rules and guidelines of the wiki.
January 4, 2012 / Appropriate Descriptions Had Better Be Appropriate!
As it clearly states on the Basic rules, articles and descriptions of items need to be thorough. They should never consist of one or two short lines, a short list of items, or only two or three sentences . "Juan is Ana's son", "shirt and overalls and sandals and hairclip" or "Molly's green dress with white ribbons" is not an article anymore than "the dress is blue" is. Additionally, "White shirt with logo" is generally not a description. We ask for elaborate descriptions; a good example is here.
I'm going to start coming down with the force of an angry goddess for this violation, because it's of no use to anyone to have to rewrite a description.
--Nethilia, the Admin With the Iron Fist in an Iron Glove
January 7th, 2012 / Prices on the Rise
If you haven't noticed, the prices on dolls, clothes, and accessories for almost everything has gone up in price. Yay, cost increases! (That was sarcasm.)
--Nethilia, Admin
January 17, 2012 / Blogs have been disabled.
Due to people not following the guidelines regarding the use of blogs on this wiki, creation of new blogs and blog entries have been disabled. There are no plans to re-enable blogging in the future.
--AkaiKaze, the Other Admin
February 2012
February 7, 2012 / AG Houston and St. Louis
CultureMap.com has reported that American Girl will build a store at the Memorial City Mall in Houston, TX. There is no date as to when the store will open other than Summer 2012.
--AkaiKaze, the Other Admin
UPDATE: While there is no official announcement from American Girl, the page for American Girl St. Louis is now live, and the Special Store Hours has listed April 28 and 29, which falls on Saturday and Sunday respectively, with different hours from the standard store hours. It is possible, but not certain, these two dates have been scheduled for AG St. Louis's grand opening.
February 16, 2012 / New Things!
New items have been released for Marie-Grace, Cécile, My AG, and Bitty Baby and the Bitty Twins.
Also, several books have been released as well:
February 16, 2012 / AG Miami
The Miami Herald reports American Girl will open a store at The Falls in the Miami-Dade area sometime around autumn 2012.
--AkaiKaze, the Other Admin
February 23, 2012 / AG St. Louis's grand opening
STLToday.com reports AG St. Louis is officially opening on the weekend of April 21st, rather than the weekend of April 28th first posted on the store hours for the St. Louis page.
--AkaiKaze, the Other Admin
May 2012
May 15, 2012 / New Historical Character - Caroline
American Girl's corporate site has posted listings for a new Historical Character, Caroline, to be released in September. The only available information is that Caroline's series is written by Kathleen Ernst, who has written several History Mysteries and Historical Character Mysteries.
Articles about Caroline are not to be created until more information - either through AG's site, their official YouTube channel/Facebook page, or even better, an official press release - is available. It is best that things be right the first time, even in light of a new character and doll.
--AkaiKaze, the Other Admin
UPDATE: American Girl's Facebook page confirms Caroline's full name as Caroline Abbott. It still bears repeating that articles about Caroline are not to be created until there is more information to be had.
June 2012
June 28, 2012 / New items
Julie and Ivy have received new items in their collections:
There are new items for McKenna's collection:
There is a new doll, Just Like You 58, and new items for the My American Girl line:
The Bitty lines have received new items as well:
Also My American Girl Dolls can now be ordered without hair for specific molds, sent into the hospital to be returned without hair, or fitted for a hearing aid.
July 2012
July 11, 2012 / Girl of the Year 2013
Barnes and Noble has listings for Girl of the Year 2013:
Jessie Haas and Sarah Davis are listed as the author and illustrator, respectively. (It should be noted that Sarah Davis was the illustrator of Aloha, Kanani and Good Job, Kanani.) Amazon's listing for Book 2 gives a possible hint that GotY 2013 may be involved in visual or performing arts.
Articles relating to GotY 2013 will not be created until sometime in December when more information is available. It need not be said that foolishness or mischief will not be tolerated on this wiki.
--AkaiKaze, the Other Admin
August 2012
August 1, 2012/ Caroline news
American Girl has revealed what Caroline looks like on Facebook and more details about her. Caroline is from Sackets Harbor, NY, and her time period is set during the War of 1812.
In case anyone is new to the wiki, be sure to read the Spoiler Policy as the admins are not responsible for ruining your excitement.
--AkaiKaze, the Other Admin
August 28, 2012 / Caroline's collection leaked, and punishing the impatient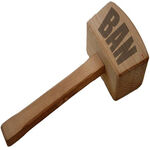 Catalog leaks have revealed several items in Caroline's collection, courtesy of a Flickr user.
We may be waiting in anticipation for Caroline's release, but making incorrect articles and creating incorrect article headings does nothing but mislead people. People have been banned for speculating on Caroline long before her articles even appeared on the wiki.
Articles about Caroline's items are not to be created until her items actually show up on the American Girl website. It need not be said any form of mischief or speculation will not be tolerated.
--AkaiKaze, the Angry Admin
ADDENDUM: Most likely old news by now, but AG Houston and Miami have scheduled their grand openings on the weekends of September 15 and October 6, respectively.
August 9, 2012/ More Caroline news

The Rock Father recently posted some images of items in Caroline's collection as well book summaries for Caroline's series.
--AkaiKaze, the Other Admin
September 2012
September 4, 2012 / Caroline's debut, new stuff
Caroline's collection officially debuts on American Girl's website. Here is a list of all the items released in her collection thus far:
The My American Girl dolls have new clothing and accessories.
Last but not least the Bitty lines have new stuff as well.
Be sure to read the Article Creation Policy before contributing in edits or articles. New stuff does not mean leaving old habits behind, and poor edits/articles will be removed without fanfare.
October 2012
October 12, 2012 / New Policy on Admin and Layout Notes
There is a new policy: Admin and Layout Notes. What are those? Blurbs that appear on editing pages with this <!-- --> that are to help explain things on how pages should be edited or listed (or not listed, in order to keep things simple). Long story short is that there's hardly a good reason to edit them. If it's not a good reason? Violation gets a two week ban minimal.
And on a more angry note? That I even had to lay this policy out says a lot about entitlement. Don't mess with the rules. You're not in charge of them.
--Nethilia, Admin and Founder, With the Iron Fist in an Iron Glove
October 16, 2012 / Girl of the Year 2013 movie
The Albuquerque Journal reports Girl of the Year 2013 is going to have a movie to accompany her books, with filming to commence this month in and around Santa Fe and Albuquerque areas. The movie summary matches what was found in the book summaries via the Library of Congress (Book 1, Book 2), which gives GotY 2013's name as Saige.
This wiki takes a zero-tolerance approach to speculation. Articles about Saige will not be created until sometime in December, when there is more information to be had.
--AkaiKaze, the Other Admin
October 29, 2012 / New Admin!
Please welcome Blakegripling ph as a new admin to the Wiki. Along with myself and AkaiKaze, he will help us continue the proud tradition around here of good information, smooth maintenance and constant improvements, as well as needed rule enhancement and enforcement and smackdowns as needed. He's earned it!
--Nethilia, Admin and Founder
November 2012
November 2, 2012 / Update on Saige
American Girl Playthings member Sara recently uploaded some photos of what appears to be a pre-release build of the Saige doll, which has also been mirrored on several other fansites. But still as per policy pages and/or media relating to the yet-to-be released Girl of the Year will not be created until further notice.
We have rules here, kids, remember that.
--Blake, Gruppenführer, American Girl Dolls Wiki
November 19, 2012 / McKenna's collection selling out, and a reminder on contributing edits.
McKenna's collection is now in the process of selling out, and her remaining items (barring her pajamas, at this time) are now back-ordered, including the McKenna doll itself. McKenna and whatever remains of her collection will be retired at the end of the year!
There has been quite a bit of unsatisfactory edits and contributions as of late, ranging from copying/pasting marketing descriptions AG uses for their items on the wiki, to insufficient details for accessories/clothing, to an absolute disregard for basic grammar and English.
In case anyone is new to the wiki, there is an Article Creation policy on how items are to be described under Basic Rules. Use some basic grammar skills and write like an adult or your edits will be removed.
--AkaiKaze, the Other Admin
November 25, 2012 / File description policies.
I've just added a new rule here on the wiki, this time, about naming images and other media. My friends and I already had enough trouble at the Downfall Parody Wiki regarding users uploading poorly-named files, and it will be best if we enforce it here as well to make things a little more organized.
--Blake, Gruppenführer, American Girl Dolls Wiki
November 26, 2012 / Cyber Monday at the AG Site, McKenna, and Saige
It's Cyber Monday! Enjoy sales on tons of things, including books at big sales!
McKenna is heavily backordered, along with almost all her items, mostly until December 31st. Chances are you won't get anything of hers until after your Holiday of Stuff (Be it Hanukkah, Christmas, Giftmas, or Winter Holiday Gift Exchange Day) or even later--the beam and bar set is backordered until almost the end of March.
Note there is still not enough data on Saige to make pages on her. I'm willing to swing my Iron Fist for the holidays. Don't make it seem a lot like Block-mas.
--Nethilia, Admin and Founder
December 2012
December 5, 2012 / Bye, McKenna
McKenna is officially Sold Out. If you didn't get her, you're not going to get her from AG! Let's get ready for Saige.
December 28, 2012 / Saige press release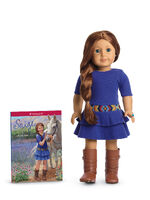 The Wisconsin State Journal has published a press release on Saige, courtesy of American Girl. Saige's debut will include two contests for girls and elementary school art teachers, along with activities developed with Americans for the Arts, a non-profit organization dedicated to the advancement of arts.
Also of note is that the article mentions buying Saige and her meet book will cost $110, which points to the possibility of a price increase for outfits, furniture, and accessories across all lines.
--AkaiKaze, the Other Admin
Community content is available under
CC-BY-SA
unless otherwise noted.