January 2010
Jan 1st, 2010/ Welcome, Lanie!
Lanie has debuted, with her initial collection. All the pages are now up on the Wiki for editing and perusal. That's right, the A*G Wiki is hot with the News of Today--Today!
Also, with Lanie's release are Petal Pink Outfit. Midnight Skate Outfit, and three new brief and cami sets!
Jane Kurtz has a blog here: The Power of One Writer. Read all about it!
Nothing of Kirsten's shows up on the AG site anymore. It is probably safe to say that she's now officially archived.
Jan 2nd, 2010/ Kirsten Now in the Archives
Kirsten Larson is now listed in the American Girl Archives. That makes it official--she is now retired.
Jan 15th, 2010/ PwP and Addressing Recent Editing Trends
There is a new purchase with purchase outfit: A off the shoulder top and bubble skirt that is $15 with a $40 or more purchase.
There has been a lot of vandalism, article deletion, and other such mess. If you want to practice, practice in the Sandbox. IP addresses and names that vandalize or edit articles to contribute nothing of relevance or usefulness (and this goes for editing or making articles to talk about which doll is "cute" or "ugly" or "who's getting a best friend" or blatantly false information or any other such irrelevant additions) will be getting two week bans on first offense. We here at the AG wiki do not have time for your petty nonsense.
February 2010
Feb 5th, 2010/ No Personal Opinions
Anyone caught putting personal opinions on article pages will be getting a week-long ban, minimum, on first offense. I am really putting my foot down about this. It's becoming a problem, and to be honest I'm not above banning people for rules violation. READ THE RULES. --Nethilia, admin.
Feb 11, 2010/ The New Stuff!
There's a new release of stuff! Hooray!
For Rebecca's Collection:
For the Just Like You:
For Bitty Baby:
For Bitty Twins:
Books and Crafts (not complete):
Enjoy, indeed! We also have a new Admin here at the A*G Wiki, AkaiKaze!
Feb 24, 2010/ AG Store in Denver Next/Free Shipping codes
So this is probably old news, but apparently the next location for a Boutique and Bistro is in the Denver, CO area. Nifty. See the Press Release here: [1]
In more recent news, the following codes will lead to free shipping until March 28th: A309392; A302271; A302179; A302275; A302175; A302177; A302255; A302257; A302259.
March 2010
Mar 11, 2010/ PwP and a Reminder
There is a new purchase with purchase outfit: the Vacation Outfit, which is $15 with a $40 or more purchase.
Before creating a new article, please take the time to read the Policy on Article Creation, especially the first rule about articles needing categories. Additionally, pictures taken from other sites, especially pictures with significant watermarks or visible lettering indicating their site's origins, will be deleted. --AkaiKaze, The Other Admin.
Mar 31, 2010/ American Girl Denver and Editing Issues
American Girl Denver had their grand opening last weekend. That means there are now eight American Girl stores in the US. Go check it out if you're in the area!
There has been a lot content removal, spam, and false information in the articles. If you want or need practice, practice in the Sandbox. The two week bans for IP addresses and names that either vandalize or contribute irrelevant, useless, or false information and articles will be strongly enforced. Repeat offenders will be put under severe bans longer than two weeks. I'm not above banning people who don't read the Rules of the Wiki. --AkaiKaze, The Other Admin.
May 2010
May 9, 2010/ Hotel-Exclusive Doll Bed
If you are planning on visiting an American Girl Place or Store, there are certain hotels currently offering special packages that includes a doll bed. From the main Stores page, picking a specific store page, clicking the "Get Away to American Girl" picture, then checking the "Show hotels" checkbox will give you a list of hotels participating in this offer. --AkaiKaze, The Other Admin.
May 12, 2010/Play Scenes & Paper Dolls and other Book News!
Three new Play Scenes and Paper Dolls are due in August: for Molly, Rebecca--and Samantha! It's very interesting that books are continuing to be released for Sam even though she's archived. Samantha will also be getting a Just For Fun Book, and the box sets will be rereleased with added board games about each characters' favorite things. These books all can be seen on the official American Girl Publishing Website. Note that this is a corporate site, so you can't buy here. --Nethilia, A*G Wiki Admin.
May 13, 2010/1400 Articles
Wow, 1400 articles! Nice. We'll make it to 5k eventually! =D --Nethilia, A*G Wiki Admin.
May 14, 2010/ Innerstar University
American Girl will soon be launching a virtual world for girls and their dolls, much in the vein of Build-a-Bear or Webkins, Innerstar University. So far there are no details, but the preliminary site can be seen here. The site is due to launch this summer and books will be released this fall. Until there is more information, there is not quite a need for an article.
May 18, 2010/ Last Chance Sales

American Girl's currently having a last chance sale. Some of the items offered include items from Chrissa's Collection, namely her sundress and party treats for the JLY dolls, as well as girls' outfits based on retired doll outfits such as the Silver Belle Outfit and the Sparkly Plum Outfit. --AkaiKaze, The Other Admin.
May 22, 2010/ AG Store in Overland Park, KS
June 2010
June 2, 2010/ New Stuff
A new outfit has been released for Lanie, Lanie's Nature Outfit and Accessories. There also are new things for Bitty Babies and Bitty Twins: For Bitty Baby there is the Special Day Gown and Autumn Bouquet Outfit; for the twins, there is the Cozy Nightie and Bunny, Union Suit and Monkey, Prairie Dress Outfit, and Prairie Tunic Outfit.
Also, Gwen's meet outfit is now available as the Eyelet Sundress for Dolls.
June 8, 2010/ Read the Rules. No, Really.
It disappoints me that despite the best efforts to build and better the wiki, some of you insist on finding new ways to fail. Please remember a two-week ban is in effect for users, both anonymous and registered, who insert gibberish, spam, false information, and general nonsense as well as content removal and violation of basic rules. Repeat offenders will find themselves banned longer than two weeks. Additionally, new articles that do not meet the standards set by the Policy on Article Creation will be deleted.
Long story short, READ THE RULES. READ THE POLICIES. It's for your own good. --AkaiKaze, The Other Admin.
July 2010
July 6, 2010/ AG's Shine On Now

American Girl's currently running a new campaign called Shine On Now. The goal is to donate $1 million in clothing, books, dolls, and money to four different charities: Kids in Distressed Situations, National Association of Children's Hospitals and Related Institutions, National Wildlife Federation, and Save the Children.
In relation to the above, there is a preview of Innerstar University at the Shine On Now site, with more information to come on July 13. Articles about Innerstar University are not needed at the moment, so please refrain from idle speculation. --AkaiKaze, The Other Admin.
July 13, 2010/ New Name, New Items, and a Reminder
American Girl has decided to rename the Just Like You line to My American Girl. With this new name comes new outfits and accessories, this includes a new Meet Outfit titled the Real Me Outfit. Additionally, at Shine On Now there is a My American Girl doll giveaway with a winner chosen each day between July 13 until July 31.
With the launch of Innerstar University, the system and web browser requirements have been revealed: for Windows users you'll need Internet Explorer 7 or 8, Firefox 2.0 or higher, or Google Chrome; for Mac users you'll need Safari 4.0. Additionally, you will need the latest version of Flash. You will need to register an account at Innerstar U to access all of the features the site has to offer.
However, while all this is new and exciting for the wiki, please remember to read the basic rules and the Policy on Article Creation. Failure to follow the rules and policies of the wiki will result in deleted articles, two-week bans for first-time offenders, and longer bans for repeat offenders. --AkaiKaze, The Other Admin.
July 13, 2010/ Redirecting and Renaming
With the renaming of the modern line to My American Girl, it's sorely tempting to go through every American Girl of Today and Just Like You article and fix the articles to point to the titles. However, there are several thousand articles (thank's to y'all--two years going strong as of the 6th of this month, now!). Redirects do the work for us, so don't fret about it! It's more important to cover what we haven't gotten than tweak redirects that are already covered. But when you're making new things, don't forget the Policy on Article Creation and Quality over Quantity! The rules don't get lax because we're improving.
The admins, who have the power to move, rename, and redirect, will take care of any major renames needed. In fact, we probably will, so no need to do it for us as we can do it in a few clicks. Pardon our e-dust! --Nethilia, Admin.
Edited to add: As this is a huge category and the line was recently renamed, it's best that the category stay as it is as Just Like You. While inaccurate, there are many articles and images that would need edits, and we have better places to put the manpower. Please do not change the category on any Just Like You articles. It will take much too long. Thanks!
July 22, 2010/ The Third Rule
Let me point you to this rule. It is titled: "No pages/links about or to your Fansite, your Photostories, or your Original Outfits or Dolls." If you're too lazy to click on the link, it basically means the admins of the AG wiki will not tolerate any pages created for any characters/items/stories not from American Girl.
If you must find a place to show off stories you've written for your dolls, take it to FictionPress.com. And if you must find a place to show off your own AG creations, there are blogs where you can get your own account and show off your works, such as Blogger, WordPress, or LiveJournal.
Anyone caught making new non-AG related articles will be banned for a minimum of 3 months. This is for the first offense only; repeat offenders are and will be subjected to longer bans. --AkaiKaze, The Other Admin.
August 2010
August 15, 2010/GotY 2011 Books on Amazon
The books for the Girl of the Year 2011 are up for preorder on Amazon.com:
The author is Lisa Yee, who wrote Good Luck, Ivy and a lot of books with Asian-American central characters. Does this mean we'll see another Girl of the Year who is of color? Until there's more information later in the year from leaks or American Girl, please refrain from speculation. --AkaiKaze, The Other Admin.
August 17, 2010/ AG Kansas City and Washington DC
According to the Washington Post AG will open a 10th store in Washington DC in summer 2011. It is mentioned the store will be bigger than the Boutiques and Bistros, but half the size of the NY, Chicago, and Los Angeles flagship stores.
August 25th, 2010/ Felicity and Elizabeth going away and Prototypes of Ana?
According to some whispers among the educated, the next two to be archived are Felicity and Elizabeth. AG has yet to release an official statement yet. Whether this means a new Historical or not is up in the air.
New Fashion Studios are shipping that include Best Friends as a partner. Rebecca's set contains "Ana", which could possibly be a prototype. Images are forthcoming.
--Neth, Admin
August 26, 2010/ Do not make me bring out the banhammer
I'm pretty sure the entire AG fandom, by now, is aware Felicity and Elizabeth will be archived if the farewell notice on Felicity's product page is of any indication.
However, there's too little information at the moment to determine when the archiving will take place, let alone when Felicity and Elizabeth will be officially archived. Until there's more information or word from AG regarding Felicity and Elizabeth's impending archival, please refrain from the following activities:
Editing their pages to spread false information or campaigns to AG to save their collection from archival
Making new articles for Felicity and Elizabeth to spread false information or campaigns to AG to save their collection from archival.
Doing either of the two above activities will get you a two-week ban at minimum. It need not be said repeat offenders will receive longer bans. --AkaiKaze, The Other Admin.
September 2010
September 2, 2010/ New items
AG's released some new items for the My AG, Bitty Baby, and Bitty Twin lines. There's a new pet, Praline, as well.
New My AG outfits:
New My AG accessories:
New My AG furniture:
For Bitty Baby:
For Bitty Twins:
September 3, 2010/ New Mysteries for Julie, Rebecca -- and Samantha
Amazon.com's listing three new mysteries for a March 2011 release:
It's quite interesting that Samantha is still receiving a new book, even with her archival last year. --AkaiKaze, The Other Admin.
Sept 5th, 2010/ Official Press Release
Minor overall. American Girl has given an official press release for Felicity and Elizabeth's retirement as of Sept 1st.:
MIDDLETON, Wis., Sep 01, 2010 (BUSINESS WIRE) -- American Girl officially announced plans today to say farewell to Felicity Merriman, one of the company's treasured historical characters introduced in 1991. Felicity's complete product collection, including her best friend Elizabeth Cole(TM), will soon be removed from American Girl's catalogue, Web site, and retail stores and placed in the American Girl Archives(TM). Because stories are at the heart of the company's mission to celebrate girls, the Felicity books will still be sold on americangirl.com, at American Girl's retail stores, and at bookstores nationwide.
October 2010
Oct 24th, 2010/ AG's upcoming 25th anniversary news. Also, reading is not rocket surgery.
To celebrate American Girl's 25th anniversary next year, Warner Bros. is rereleasing Felicity: An American Girl Adventure in a deluxe DVD edition on February 15, 2011. Note that Felicity's books, mini dolls, and movie will remain available after her archival.
It still disappoints me that despite the best efforts to build and better the wiki, some of you continue to find new ways to fail. This wiki is not meant to rehash material from the official site; to do so would constitute copyright infringement. I would strongly suggest reading the rules until you understand why it exists on this wiki -- as difficult as reading and reading comprehension may be to some people, reading as a whole is not rocket surgery. Additionally, I would also strongly suggest reading the Warning and Banning Policy before you edit or add anything to the wiki, as the admins of this wiki don't take too kindly to people who flagrantly break the rules. The wiki's rules and policies will be strongly enforced, especially in light of any news, leaks, or information regarding 2011's Girl of the Year in the coming weeks. --AkaiKaze, The Other Admin.
Oct 25, 2010/ GotY 2011 news
According to Doll Diaries, book listings from Borders.com's Australian site for 2011's Girl of the Year indicate her name may be Aloha Kanani. The description of the first book mentions GotY 2011 living in an island home located in a tropical setting, possibly hinting GotY 2011's state as Hawaii. The description for the second book seems to have a "conflict" theme about campaigning for a cause and spending time with friends.
Please note that pages about GotY 2011 will not be created until sometime in December, when there's more information available. Breaking news generally do not contain the most accurate of information, and any pages about GotY 2011 (especially GotY 2011-related pages that violate the Policy on Article Creation) will be deleted. --AkaiKaze, The Other Admin.
November 2010
Nov 3, 2010/ Wiki reshuffling
The AG admins are aware things are not quite right at the moment due to Wikia forcing the Oasis skin throughout Wikia's networks. While I am personally not happy with the new look, I've added links for all the Historical/Girl of the Year/My AG links to the Contents box on the wiki's front page for easy accessibility for editing, until either Nethilia or I have figured out how to best configure the wiki's menus.
Please note that just because there's been a forced wiki redesign does not mean rules and policies go out the window. --AkaiKaze, The Other Admin.
Nov 13, 2010/ Wiki menu configuration

Minor update overall - navigation via the top menu should be a tad bit easier for people who want to not only look for articles about dolls, but AG's books and other products. The Contents box on the wiki's front page will remain the same for people who are looking for a specific character/doll article. --AkaiKaze, The Other Admin.
Nov 29, 2010/ Cyber Monday And Blogs
It's Cyber Monday--the Monday after Black Friday, when online retailers offer huge discounts! There's a lot of stuff on sale till midnight CST--including some older Chrissa and Mia stuff!
In unrelated news, we ask that you please run any blog posts and essays past an Admin. We expect good quality, and if you can't give it, we ask you step back and think before you type. --Nethilia 10:49, November 29, 2010 (UTC)
December 2010
Dec 12, 2010/ News on Kanani!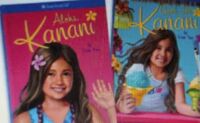 A leak about the new girl of the year, Kanani! So far there have only been, on my radar, images of her book covers. They look promising--in that this may be an ethnic Hawai'ian girl. The books appear to be set in Hawai'i as well--a first for any American Girl!
I know we're all excited to learn and hear about this information. However, our policies still apply. Articles are not to be made about Kanani until we have more, legitimate information. Excitement does not stop the rules. --Nethilia, Admin.
Dec 16, 2010/ More Kanani news
A high-quality picture for the cover of Aloha, Kanani can be found on Barnes and Noble's listing for the book, as well Kanani's last name (Akina).
Pages on Kanani have been created and put under protection until January 1 to prevent vandalism from anonymous editors. This goes for links as well. --AkaiKaze, The Other Admin.
UPDATE: Barnes and Noble have since taken down the artwork and book description, but a cached version still exists.
Dec 29, 2010/ Kanani's Collection
Catalog scans of Kanani's collection have been posted online. So far the initial batch of Kanani's items include:
Kanani (her dress will be available for girls)
Kanani's Accessories
Paddleboard Set
Beach Outfit
Plush Monk Seal
Shave Ice Stand
Aloha Outfit
Pajamas and slippers (matching set will also be available for girls)
Lu'au Set
Lounge Chair Set
Full details will be available on January 1st. It need not be said poorly-made Kanani articles will be swiftly deleted in accordance to the Policy on Article Creation. --AkaiKaze, The Other Admin.
Dec 30, 2010/ Kanani press release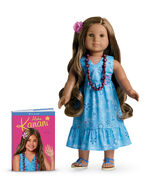 Community content is available under
CC-BY-SA
unless otherwise noted.