January 2009
Jan 1, 2009/Welcome, Chrissa!
Welcome, Chrissa Maxwell, the Girl of the Year 2009! Chrissa's new items are already on the site; however, Chrissa's Craft Studio and Chrissa's Swim Team Gear are already back ordered. The DVD is too, but it doesn't officially release until the 6th anyways. There is also two new outfits and an accessory set for Kit Kittredge, a new Just Like You outfit, new items for Bitty Baby and the Bitty Twins, and three new pets! 2009 is starting off well.
Jan 5, 2009/500 Articles!

Whee! We're up to 500 articles! (in case you're curious which one is #500, it's Jess's Pajamas.) Thanks to all those who have contributed to the A*G Wiki!
Jan 12, 2009/More Retirements

The Holiday items for the Bitty Twins, Bitty Baby, and Just Like You lines are starting to disappear if they're not gone already. Also, Molly and Emily are starting to lose their recital stuff.
Jan 14, 2009/Rebecca's Real!
Not to take from Chrissa's debut, but here's some big news. So there have been rumors in the AG world of a new Jewish Historical from around Samantha's time--and now we have proof! Amazon has put the books up for preorder and so we have titles and a publication date - June 2009.
Ana is quite possibly a friend doll. The author, Jacqueline Dembar Greene, shows a long list of both historical stuff and Jewish stories, so I'll look on the positive side. Rebecca, of course, won't be getting a page without more information confirmed. Patience, grasshoppers.
Edit: Ana is Rebecca's cousin, and they are Russian Jews.
Jan 22, 2009/New Wiki Policies
Please read the new policies on User Pages, Talk pages, and User Name Policy. These are important and will help us run a smooth and happy wiki project. Thanks!
February 2009
Feb 1, 2009/New Mysteries Out, Retirements
Feb 3, 2009/Goodbye, Samantha
Samantha has officially sold out as of Feb 3, 2009. It does appear the mini dolls will remain. As of today only Nellie's Pajamas (along with girl's sizes), the Wicker Table and Chairs, Samantha's Shoes and Socks, Samantha's Accesories, and the White Party Slippers remain.
Feb 15, 2009/Reviews on Americangirl.com
You can now leave product reviews of items on American Girl's website. Granted, this is only on currently released items. Try it out!
Feb 23, 2009/ New Stuff!
New stuff (which was probably in stores already) is out-- a lot of spring clothing, accessories, and the like for Just Like You dolls and new books. Gwen Thompson was also modified a little. Go look!
Feb 27, 2009/New Policy Regarding Article Creation
Due to a rash of one line short articles that don't really contribute anything, there is a new Policy on Article Creation effective immediately.
March 2009
March 26, 2009/Free Shipping, Official Archiving, and More on Rebecca
Some images of Rebecca have been circulating; she appears to have dark hair and dark eyes. More details will be posted later.
Enter "EASTERSHIP" to get free shipping on any size order until April 5th.
Samantha Parkington will be officially archived in May. Very little is left of the collection.
March 29th, 2009/New Policy on Articles
Effective immediately, any article that is simply a copy-paste of the website descriptions will be deleted immediately. This is not intended to be a rehash of the website.
Also effective immediately, blatantly false information will be deleted and removed from the Wiki.
May 2009
May 6th, 2009/ Images of Rebecca!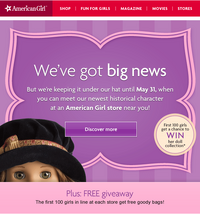 A mailing of images has given a sneaky peek at Rebecca! It appears that she's going to have lighter hair and eyes than originally expected. But we won't know until the release date on May 31st!
May 8th, 2009/Short Articles - Stop Doing It. No, Really.
Due to people not following the Policy on Article Creation, effective immediately anyone caught in violation of the basic rules on said policy will recieve a one-week ban on the first offense. The second offense will be a full ban. This has become a problem.
Read the policies, people. They apply.
May 17, 2009/Free Copy of Magazine and Other Codes
Enter FREEMAG at checkout to get a free copy of American Girl Magazine with purchase. Good til May 30th.
Enter P599018 for 10% off a total purchase of any amount. Good through May 31.
Enter P599016 or P599094 for free shipping. Good until June 1.
Enter P599017 or P599092 for $10 off a minimum $50 purchase. Good until June 1.
Note that you can only use one code at a time!
May 26, 2009/Rebecca in the Media
News about Rebecca is starting to come out in all kinds of media! She'll be out May 31st, and at that time AG*Wiki articles about her can be improved on or started. However, rules about the Policy on Article Creation will still apply--any articles in violation will get folk one-week bans on the first offense. We're all itching for her and we'll get the articles up, but we gotta do it right.
June 2009
June 1, 2009/Welcome, Rebecca!
Welcome Rebecca Rubin to the Historical Characters! She was released May 31, 2009.[7] What has been released with her is the following:
As well as all six books and the mini doll.
Samantha and Nellie have also been fully pulled off the website. So long, farewell, and all that jazz.
And if you're wondering why we're a day behind...well, some of us have offline lives.
June 5, 2009/American Girl Archives Up
The American Girl Archives has been launched by American Girl. Samantha, Nellie, and all the past Girls of the Year are listed.
June 15, 2009/700 articles and Going Strong!
WOW! 700 articles! We're doing so well! Congrats to all our workers!
June 29th, 2009/New Stuff!
The summer run is up with the new stuff! New Just Like You outfits and accessories, with some stuff for the Bitty Twins and Bitty Baby! No Historical stuff, though.
July 2009
July 7, 2009/ Happy Anniversary!
Hi all! Wow. The A*G Wiki is now one year old. Started on a sleepy Monday in my apartment, I was just happy to get up articles about all the Historical Characters before bed. In that one year, we've had the release of Chrissa, Gwen, and Sonali; the archival of Samantha and Nellie; four new Just Like you dolls; many updates and new releases; and made over 850 articles and are still going strong. I'm so thankful to all the people who have helped make this one of the fastest growing, most detailed, and most up to date Wikis and American Girl sites out there! Keep up the totally awesome work!
~~Nethilia, Admin
July 17, 2009/Userboxes and McDonalds
Please see the new policy on Userboxes. Long story short: Don't make 'em, Don't fake 'em, and don't ask for 'em.
Starting next week, McDonalds will be distruibuting American Girl toys in Happy Meals nationwide. It appears to involve paper dolls or some other sort of craft. When we get more news, we'll provide it!
August 2009
August 17, 2009/McDonalds, Free Shipping, and Totes
American Girl things have been available from McDonalds in Happy Meals since the 14th.
Get the Pretty Purple Tote for just $5 (+ s/h) [8]
For a limited time, Chrissa, Sonali, and Gwen can be purchased with free shipping, as well as Chrissa's Starter Collection and the two Best Friend Collections!
August 28, 2009/GotY books for 2010 up on Amazon
The books for the Girl of the Year 2010 are up for preorder on Amazon.com:
The author is Jane Kurtz, who is a white woman. But she wrote the Saba book and a lot of books with black central characters. [9] Does this mean 100% a black GotY? We won't know for sure until they offer a preview around December and any leaks before then. If it is, she will be the first black GotY and join Sonali, Jess, and Marisol as a Girl of the Year of Color.
August 30, 2009/1000 Articles!
We officially hit 1000 articles today! *fanfare, trumpets, etc* The 1000th article is the Two-in-One Ice Skating Outfit. Congrats to eveyone who's done so much hard work to help reach this milestone!
August 31, 2009/Sort Dolls by Hair, Eye, and Skin Colors!
I've recently categorised all the dolls by their hair, eye and skin colors (they were already categoried by face molds). So, for example, if you pull up [[Category:Blue-Eyed Dolls]], you will see EVERY doll that has blue eyes. This makes it really useful to see at a glance which dolls look like what, without having to remember the numbers directly. Check it out by looking at the categories at the bottom of doll articles or the category "Doll Anatomy"!
September 2009
Sept 2, 2009/New Stuff Anticipation!
The Fall/Winter reload is on the way down the turnpike. Stuff is due to be launched on Sept 3rd, 2009. It looks like four new Just Like You Dolls are coming out, as well as stuff for Julie and Rebecca and the Bitties. Also, Chrissa's collection will complete itself and her whole world will go up--it will probably be more expensive than prior collections with three dolls and a lot of things. It's a little early for a new Meet Outfit, so the new JLY will probably come in the current meet outfit.
Remember, nothing goes up here until the pages are up on the AG site. It's also rumored that with all this new stuff, old stuff will be retired including four Just Like You Dolls. Don't mark it as gone until it's official, okay?
Sept 3, 2009/ The NEW Hotness!
The Fall Release is here, and it's a head-over-heels assortment of goodies!
There are four---strike that, TWENTY--new Just Like You Dolls. The new total of Just Like you Dolls in total (including retired ones) is 52! Not all of them will be available at the stores just yet because the case has to be redone, so some will be online only for a while.
For Chrissa to complete her collection:
For Rebecca:
For Julie:
For Just Like You:
For Bitty Baby:
For Bitty Twins:
Also, you can purchase the full-length movies for Kit, Molly, Felicity, and Samantha on sale for $5 each through Sept 30.
The holidays are going to be awesome!
Sept 4, 2009/All In Together Now
All twenty new Just Like You dolls are up and have been classed by skin, hair, eyes, and face mold. There may still be some glitches in pictures, but they should clear up soon enough. Enjoy!
Sept 6, 2009/ Visual Chart for JLY
A Visual Chart of American Girl of Today and Just Like You Dolls has been created. Now you can see all the dolls that have been in the Just Like You Line at a glance!
Sept 20, 2009/ AG Offer
* Until 10/31/2009, add a free copy of Raising an American Girl to your card with any purchase. This book won't be available until 2010. [10]
Sept 25, 2009/The Archival of Kirsten
It's not yet been officially announced, but American Girl has started sending out letters stating that they will archive Kirsten Larson's entire collection; she and her collection will no longer be available for purchase online, at stores, or through catalogues with the exception of books. Given precident, this will probably be the last holiday season for Kirsten. The letter from AG can be seen here: [11]
Sept 28th, 2009/Kirsten To Be Archived By This Holiday Season
The American Girl Shop now mentions that this is the last holiday season before Kirsten goes into the American Girl Archives. This means she will most likely be officially archived by this spring, much like Samantha.
October 2009
October 10, 2009/Gwen Controversy
Starting with one little column, there has been a lot of to-do about the blogosphere regarding Gwen Thompson and her homelessness. This has been briefly discussed on her page, but there's no real reason to go into too many details here. You can see American Girl's press release here: [12] and Home Aid's Press Release here [13]
October 26th, 2009/Special Holiday Bundles, Website Revamp, Free Shipping, and Kirsten Sell outs
Until November 15th, Holiday "Collections" are available for every Historical Character (except Kirsten) consisting of the doll, meet accessories, holiday "outfit", and either a hair brush or hair pick:

* Kaya's Winter Collection $138 (Doll, Accessories Winter Accessories, hairbrush)
* Felicity's Holiday Collection $148 (Doll, Accessories, Ball Gown, hairbrush)
* Elizabeth's Holiday Collection $148 (Doll, Accessories, holiday dress, hairbrush)
* Josefina's Holiday Collection $148 (Doll, Accessories, Holiday Dress, hairbrush)
* Addy's Holiday Collection $139 (Doll, Accessories, Holiday Dress, hair pick)
* Rebecca's Holiday Collection $143 (Doll, Accessories, Hanukkah Dress, hair pick)
* Kit's Holiday Collection $144 (Doll, Accessories, Holiday Dress, hairbrush)
* Ruthie's Holiday Collection $144 (Doll, Accessories, Holiday Dress, hairbrush)
* Molly's Holiday Collection $140 (Doll, Accessories, Evergreen Velvet Dress, hairbrush)
* Emily's Holiday Collection $140 (Doll, Accessories, Holiday Dress, hairbrush)
* Julie's Holiday Collection $144 (Doll, Accessories, Holiday Outfit, hairbrush)
* Ivy's Holiday Collection $144 (Doll, Accessories, New Year's Outfit, hairbrush)
There is also the Jet Set Pet Collection for $56 (Ginger Pet Set, Sugar Pet Set, Pet Carrier) and the Bitty Twins Learn and Play Collection for $80 (BT Baking Outfit, Chef Outfit, Corduroy Skirt Set, Corduroy Dress Set).
November 2009
November 1, 2009/ Kirsten Starts Selling Out
So far, the following items of Kirsten's Collection have sold out:
* Doll with Boxed Sets (hardback or paperback) of the Central Series
* Hardcover Boxed Set of the Central Series
* Trunk
* Kirsten's Story Collection
* Several sizes of Kirsten's Nightgown for girls
Yes, she has much less than Samantha did, but it's still sad to watch her go.
November 3rd, 2009/ More information about the Girl of the Year 2010, Lanie!
American Girl has released a little bit of information in conjunction with the Girl Of The Year Release parties. She is described as an an energetic girl who loves outdoor adventures[14]. Nothing has yet to be revealed about her race or looks.
Note that here on the AG Wiki a page is not to be created for the next Girl of the Year until sometime in December, when there is enough information to warrant a page.
November 4th, 2009/ Lanie and Don't forget the rules!
News (and Google) has revealed that the Girl of the Year 2010 will be named "Lanie". Still, no article should be made until we have a last name!
We are all anticipating the Girl of the Year 2010, and of course there's always articles that need to be written. However, any article that's a violation of the Policy on Article Creation will get deleted immediately and the writer warned--and if you don't have a username, the IP gets a week-long ban. This has been a policy for a very long time because it prevents bare-bone run-by articles being written and filling the database with articles that are poorly done. Do things with care. Quality Over Quantity!
November 17th, 2009/New Mysteries, Kirsten, and User Talk Page Policy
Three new mysteries are due out in March of 2010: Missing Grace by Elizabeth McDavid Jones starring Kit, Puzzle of the Paper Daughter by Kathryn Reiss for Julie, and a first for Rebecca, Secrets at Camp Nokomis by Jacqueline Greene.
Kirsten's collection is down to very few things, and the doll shows a long back order. Chances are that she will not be showing up for the holidays for customers if she hasn't been purchased already.
December 2009
Dec 5th, 2009/ Don't Spam Your Wikis Here
Admin realizes that people are going to make other wikis about American Girl. That's fine. Note that this is the largest and most accurate one on the internet, however. The admin does not accept any outside spamming. No exceptions, no "but I said", no nothing. This wiki is not a platform for any outside advertisements that are not explicitly put up by Wikia. Anyone caught creating new articles advertising other wikis will be banned for six months on first offense--ip or username. Build your wiki on your own terms and stop piggybacking off a year-plus work of other people. --Nethilia 04:30, December 6, 2009 (UTC)
Dec 11, 2009/Lanie's Look
So images of Lanie have been revealed--and in major contrast to the writer's prior topics focusing on black characters, Lanie will be a blond Caucasian girl. Thanks to Doll Diaries for the news. AG will probably be releasing more information as the launch gets closer.
December 14, 2009/No Blogging, No Other Sites
The blog option is not to be used here on the AG Wiki. It is of no benefit to the project, given that the blog posts Admin has come across each and every time have not been focused on project work and more on private details. If you would like to have a blog, please use places like LiveJournal, Blogger, or the like. Any and all Blog posts made here will be deleted, no warning, no appeals.
Do not use pictures from other sites such as AG Playthings. Theft of another database is a violation of policy around here. All images of such a nature will be deleted.
December 24, 2009/ The end of Chrissa, the start of Lanie
Chrissa has sold out. Her collection will be retired on January 1st!
Lanie's pages have been created on the Wiki. Note that major details should not be speculated until releases in about a week!
December 27th, 2009/ News Article about Lanie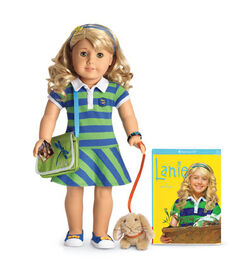 There is a news article about Lanie that can be found here from the Wisconsin State Journal. It even has a picture of Lanie, which confirms the Classic Mold, blond hair, and hazel eyes. She also has a messenger bag and a rabbit. (Didn't Julie just give us a rabbit? Whatever.)
Lanie's collection will be focusing on getting children to go outside more often and spend less time indoors. AG is pairing with the National Wildlife Federation to get the message out.
We should have a lot more details come January 1st--so no idle speculation before then, please!
December 30, 2009/ Lanie's Collection!
There has been a leak of the catalog pictures from Lanie's Collection. Items to start include the following:
Lanie (her dress will be available for girls )
Lanie's Accessories: $32 (rabbit, laptop, messenger bag, postcards, letter, screen clings, bracelet)
Camper and Gear: $295
Garden Outfit: ??
Butterfly Outfit: ??
Raccoon and Can: ??
Lanie's Nightgown and Orangutan: $28 (Girl sized set will be available as well)
Hammock Set: ??
Wildlife Set: $34 (Squirrel, fox, owl, butterflies)
White Tee for Dolls and Girls: $29
Green Tee for Dolls and Girls: $29
Red Tee for Dolls and Girls: $29
Blue Tee for Dolls and Girls: $29
We will have full details at midnight on the 1st. Note that the AG wiki has a strict rule on poor article creation--and Admin will delete all poorly done articles.
Community content is available under
CC-BY-SA
unless otherwise noted.