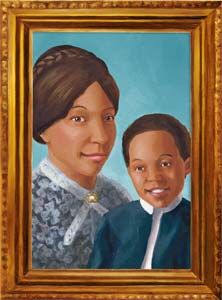 Octavia Tay is the aunt of Cécile Rey; Cécile refers to her as "Tante Octavia" or "Tante Tay".
Facts
Name: Octavia Tay (maiden name unknown)
First Appearance: Meet Cécile
Family
Personality
Octavia is more gentle than Aurélia. She shares the same narrow nose shape, "dark almond eyes," and "thick black hair" but has darker skin than her sister. Her skin is described as similar in color to Cécile's.
Her husband, Henry, died in an accident at the shipyard in Philadelphia where the Tays lived. Soon after, she and her son René moved back to New Orleans and in with her sister and her family.
In the Books
Henry died six months prior to the start of the book in January 1853, which meant that the accident occurred around June 1852. When Cécile struggles to write letters to her brother Armand, Octavia offers advice to her. Cécile describes her as "understanding." She accompanies Cécile to the Mardi Gras ball and gently reprimands her when Cécile makes a rude remark to Agnès about Agnès' costume.
Octavia is not actually seen in the book, it is mentioned she has gone to visit her in-laws in Philadelphia.
Community content is available under
CC-BY-SA
unless otherwise noted.