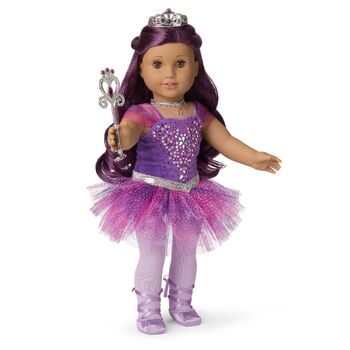 The Nutcracker Sugar Plum Fairy Doll is a Limited Edition Holiday Truly Me doll in partnership with Swarovski. The doll was released and retired in 2020. Retail cost was $250.
Doll
The doll is a variation of Just Like You 86. Differences include:
Silver glittery eye makeup at corners of eyes
Pink lip paint
Pierced ears with amethyst Swarovski earrings
Hair comes styled in half ponytail
Outfit
The outfit is a modification of the Nutcracker Sugar Plum Fairy Outfit. Differences include:
Swarovski crystals (clear and amethyst) on bodice, tiara, scepter.
Additional silver-elastic choker with star pendant
Changes to collectors' card to reflect doll.
Box Packaging
The box is a clear front display style box with metallic printed stars on the front plastic and a multicolored background. The box has a front plastic cutout to showcase the full doll, dressed, with crown and scepter attached to the background.
Gallery
Trivia
This is the first widely available Limited Edition Doll after the very limited American Girl Holiday Collector Doll.
Only 5,000 individually numbered dolls were produced as part of the limited edition Nutcracker Collection.
The doll was primarily sold online with limited stock in stores.
The ballet shoes are tied and displayed incorrectly both on this and on the regular Nutcracker Sugar Plum Fairy Outfit. Ballet shoe ribbons are typically tied around the ankle rather than laced up the leg.
The doll was released October 1 and was sold out on the website by October 27.
See Also