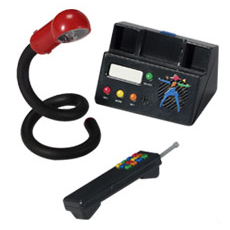 The Nighttime Necessities is an American Girl of Today accessory released in 1997 and retired in 2001. Retail cost was $20.
Flex Light
Twist and bend flexible black and red light. To turn on, twist the red grip marks at the bottom of the light, right; to turn off, twist the red grips marks, left. Requires 2 button cell AG13 batteries.
Alarm Clock/Phone
Black multi-function, multi-colored alarm clock that also functions as a phone. Cordless handset fits into fitted, sideways base; top of base is slotted to allow removal/replacement of handset. Right side of base has multi-colored AGOT logo over speaker. Unit requires 4 AAA batteries.
ALARM:
Alarm clock features a day/time digital display; the ability to record a personal wake-up message or set an alarm beep, and includes a snooze feature.
Alarm buttons and labels: green/SELECT, red/REC (record), yellow/MODE, orange/SET.
Blue labeled "SNOOZE" button top of phone base.
PHONE:
Black handset features multi-color numeric buttons and a silver functional antennae.
Angular handset speaker and ear piece.
Community content is available under
CC-BY-SA
unless otherwise noted.