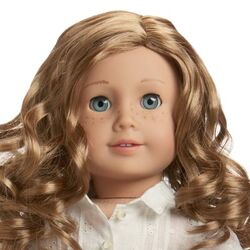 The Nicki Fleming doll was released in 2007 and available for only one year before retirement. She is considered the Girl of the Year for 2007.
Nicki Doll
Skin: Light
Brows: Feathered
Nicki has freckles across the bridge of her nose.
Hair: Light Brown/Caramel, curly, no bangs, side part
Eyes: Light Blue
Meet Outfit
Nicki's outfit is intended to evoke a Western/ranch feel, owing to her living on a ranch.
Bodysuit
Cream bodysuit. The eyelet top mimics a button down white shirt with eyelet accents. Pearl non functional buttons. The bottom is plain and simulates underwear. Velcros up the back.
Skirt
Blue faux-wrap "suede" skirt. Tan attached belt with floral embroidery and knot tie. Floral embroidery on the left front of wrap.
Boots
Brown faux-leather cowgirl boots. Velcro up the back to ease in wear. Lace trim.
The girl's outfit was available:
Eyelet Blouse: $32
Western Wrap Skirt: $36
Trivia
See Also