"Nicki" redirects here. For the doll, see Nicki Fleming (doll). For the book, see Nicki.

Nicki Fleming was the fifth Girl of the Year released by the American Girl Doll company. She was released in 2007.
Personality and Characterization
Nicki Fleming is a ten-year-old girl living outside of Denver, Colorado. She is the oldest daughter of their two parents; she has a younger brother, Adam, and her mother is expecting twins. Her family owns a ranch called the "Twilight Ranch" where they raise pigs for slaughter; they also keep horses as pets. Nicki lives far enough from Denver that it is considered a distant trip to go. She also lives far enough out that she and her brother are the first people on the bus to school in the morning and the last two off in the afternoon.
Before Nicki was born, her mother trained service dogs. Her mother was planning on taking on a new dog but learned that she was pregnant with twins and was going to have to restrict her activities. Nicki is not very good at standing up for herself and refusing to do what people ask of her, even at her own detriment; it is her reluctance to say no that result in her taking on the training of Sprocket and getting involved in the planning of the gala celebration.
Nicki is an artist and skier. She is a very responsible, compassionate girl. She loves her family and her dog. After she gets involved in the gala and Sprocket, she wishes she could say no, but she just can't.
After her mother has twins, Nicki gets to name them, so she chooses Rebecca and Kristine, after her best friends, Becca and Kris.
Family and Friends
See also: Minor Characters in Nicki's Stories
Family
Joan Fleming: Nicki's mother
Mr. Fleming: Nicki's father
Adam Fleming: Nicki's younger brother
Rebecca and Kristine Fleming: Nicki's infant twin sisters
Friends and Other Minor Characters
Sprocket: the service dog that Nicki is training
Jackson: Nicki's horse
Becca: Nicki's best friend
Kris: Nicki's friend
Heather: Nicki's classmate
Books
See: Nicki Fleming (doll)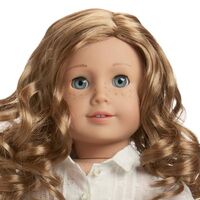 Skin: Light
Hair: light brown
Eyes: Blue
Collection
See: Nicki's Collection
Trivia
Nicki was the first Girl of the Year to be released on January 1st, a tradition that continues to this day.
Nicki was the first Girl of the Year to have two books.
See Also