"Nellie" redirects here. For the doll, see Nellie O'Malley (doll).
Nellie O'Malley was the first Best Friend released; she is the "Best Friend" of Samantha Parkington.
In October 2008, American Girl announced their intent to "archive" Samantha Parkington's entire collection; she, Nellie, and their collections were no longer available for purchase online or through catalogs with the exception of books. The Nellie doll and all items in her collection have been retired. After Samantha was rereleased for the BeForever retooling, it was unknown if Nellie would ever be available again; this was fairly confirmed with the rerelease of Felicity Merriman for the line that did not include Elizabeth Cole, so it is unlikely that the Nellie doll or collection will ever be available again.
Personality and Facts
Nellie starts the series as a shy servant girl; she lives with her father, mother, and two sisters Jenny and Bridget. Nellie's family are Irish immigrants and thus not looked upon well in American society, as at the time Irish people were not considered "white" in America. In Nellie's Promise, Nellie mentions that she spent her eighth birthday working in a factory, and did not have a celebration that year.
Nellie is first seen in Meet Samantha working for the Rylands as a servant. She defers to Samantha and her family because she is of a lower class, even calling Samantha "miss" and fretting that she might be seen with her. She is described as shorter and smaller than Samantha and not very healthy due to having done hard factory work that has weakened her health. This eventually leads to her being dismissed by the Rylands because Mrs. Ryland does not think she will last. She has worked several years of her young life by the time Samantha meets her, first in a factory and then as a house servant, and initially had never gone to school until Samantha Learns a Lesson. She is practical where Samantha is fanciful; when Samantha says that Jessie has left to be an actress and goes into fantastical reasons for her departure, Nellie simply concludes—correctly—that Jessie may have a baby.
Initially, Nellie was a foil to Samantha to reflect her poorer, more rough life. However she was lifted in status when she becomes part of Samantha's family; she and her sisters are adopted by Gardner Edwards and Cornelia Edwards at the end of Changes for Samantha.
Nellie is extremely apprehensive of letting people get close to her or getting too informal with people she perceives as her betters; even after living with Gardner and Cornelia for two months, she still calls him "sir" and is very distant. She is extremely protective of her younger sisters and, to some extent, of the more naive Samantha. She is mechanically skilled; Miss Brennan calls her 'Miss Nellie O'Malley-All-Mended" because of the way she was able to disassemble and reassemble things to repair them. She learned some car tinkering from her father as he was into motorcars. She sings well and, due to her work in the settlement house, speaks some German and Italian. She feels that she must be useful and practical, a side effect of having worked her entire life.
American Girl characterizes her as "practical" and "hardworking."
Family and Friends
Family
Friends
Book
Nellie is a major character for Samantha's first two books, Meet Samantha and Samantha Learns a Lesson. In Samantha's Surprise she has an extremely brief appearance. She is then not seen again until Changes for Samantha, when she is then made a prominent character again.
She is a major character for the short stories Samantha and the Missing Pearls and Samantha's Winter Party. She is also present in all of Samantha's mysteries: The Curse of Ravenscourt, The Stolen Sapphire, The Cry of the Loon, Clue in the Castle Tower and Danger in Paris.
Nellie is a major character throughout the film; the two books where Nellie had little or no appearances were cut from the plot. She starts out as a servant with her family at the Rylands' house next door. She does not attend school at all during the movie, but Samantha teaches her to read. After Sam leaves to live with Cornelia and Gard, Nellie and Samantha keep in touch via letters; unlike in the books, it is Mrs. Hawkins who sends the letter informing them of Nellie's orphaning. As in Changes for Samantha, Samantha helps Nellie and her sisters run away from Cold Rock House Orphanage and hides them in her attic and they are taken in by the Edwards.
Changes (see also Movie/Book Differences):
Samantha does not hear about Nellie before she arrives.
Nellie's mother has already died by the start of the movie.
Nellie's entire family works for the Rylands, not just Nellie alone. The family never works for the Van Sicklens.
Nellie does not go to school at all; Samantha teaches her to read.
Nellie goes to work in a clothes factory during her stay in the attic, giving Samantha a first-hand look at factory work.
Bridget becomes extremely ill, forcing Samantha to reveal that they are there.
The girls are taken in by the Edwards on Christmas morning as opposed to Valentine's Day, in keeping with the holiday theme.
She is played by Kelsey Lewis.
Doll
Main article: Nellie O'Malley (doll)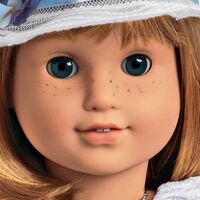 Skin: Light

Nellie has light freckles across the nose and cheeks.

Hair: Strawberry blond, shoulder length, side part, bangs
Eyes: Dark blue
Blue and white dress
White tights
Blue hair ribbon
Black shoes
White bloomers
Meet Accessories
White straw hat with blue flowers
Celtic cross necklace, which belonged to Mam
Embroidered handkerchief
Irish penny, a gift from Miss Brennan
Drawstring bag
Collection
Trivia
Nellie was the first explicitly non-Latina doll to use the Josefina Mold.
Though Nellie in the movie is a redhead, her doll is strawberry blonde, in contrast with the retcon of Elizabeth Cole's hair to match her movie counterpart. This may be because the book illustrations, which remain the same, can be interpreted as either color, or it may be because the Nellie doll was originally meant to be limited edition and continuity between the book and movie versions of the story was not as important in this case.
Nellie's adoption is somewhat historically improbable in that she and her sisters were adopted as family members to the Edwards from a lower class and are Irish (at a time when Irish people were not considered equal to WASPs), although Changes for Samantha does not reflect that. In Nellie's Promise, her lower-class background is acknowledged multiple times, including when Nellie mentions that the girls at her school aren't certain if she's Samantha's sister or Samantha's maid. A more accurate portrayal of the classist attitudes of the time is given by Charlotta in The Stolen Sapphire.
Nellie refers to her parents as "Ma" and "Pa" in Samantha Learns a Lesson, but "Mam" and "Da" in Nellie's Promise.
Community content is available under
CC-BY-SA
unless otherwise noted.