(Added see also info, updated caption)

 

(7 intermediate revisions by 2 users not shown)
Line 1:
Line 1:
−

[[File:NellieHolidayCoat.jpg|right]] '''Nellie's Holiday Coat''' was an outfit that was part of [[Nellie's Collection]]. The entire collection was retired, along with the coat. Retail cost was ''$26''.

+

[[File:NellieHolidayCoat.jpg|]] '''Nellie's Holiday Coat''' was [[Nellie's . The with the . Retail cost was ''$26''.

 
+
 
⚫
 
+
 
+

Dark gray long woolen coat. Short square collar. Inner facing. Long sleeves are cuffed with faux snow leopard fur. Laps right over left; four non functional white pearly button in square. Four metal snaps to close (two at collar edge).

 
+
 
+

== Cape==

 
+
 
+

Round dark grey shoulder cape. Hem edge trimmed with faux snow leopard fur. Lined with dark grey satin. Red cord tie at upper edge.

 
 
⚫
 
−

Navy coat with fake white and black fur trim. Shoulder cape and red ribbon bow at collar.

 
 

==Hat==

 

==Hat==

 
+
−

Navy hat with fake white and black fur trim.

 
 
+

Grey round six-gore hat. Turned up faux snow leopard fur brim cuff. Brim lining of dark grey satin; inner lining of white satin.

⚫
 
 
+
−

Thick, cranberry mittens

 
 
⚫
⚫
 
 
+
⚫
 
 
+

Dark cranberry knit mittens. Connected with a 16" knit yarn cord.

⚫
 
 
+
⚫
 
 
+

==See Also==

 
+
 
+

*[[Nellie's Holiday Outfit]]

 
+

*[[Nellie's Doll]]

 
+
 

[[Category:Nellie O'Malley]]

 

[[Category:Nellie O'Malley]]

⚫
 
 

[[Category:Nellie's Collection]]

 

[[Category:Nellie's Collection]]

 
⚫
 

[[Category:Samantha's Collection]]

 

[[Category:Samantha's Collection]]

 
⚫
 
⚫
 

[[Category:Retired Outfits]]

 

[[Category:Retired Outfits]]

−

[[Category:Retired Collections]]

+

[[Category: ]]

 
⚫
 
⚫
 
+

[[Category:Outerwear]]
---
Latest revision as of 21:14, 15 February 2021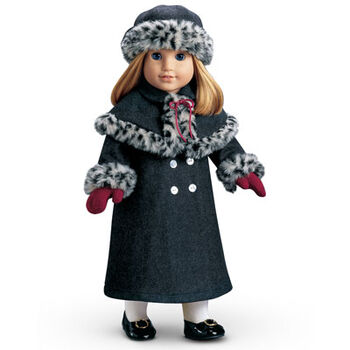 Nellie's Holiday Coat was introduced to Nellie's Collection in 2004 and retired in 2008 with Nellie's archival. The outfit is associated with the movie Samantha: An American Girl Holiday. Retail cost was $26.
Coat
Dark gray long woolen coat. Short square collar. Inner facing. Long sleeves are cuffed with faux snow leopard fur. Laps right over left; four non functional white pearly button in square. Four metal snaps to close (two at collar edge).
Cape
Round dark grey shoulder cape. Hem edge trimmed with faux snow leopard fur. Lined with dark grey satin. Red cord tie at upper edge.
Hat
Grey round six-gore hat. Turned up faux snow leopard fur brim cuff. Brim lining of dark grey satin; inner lining of white satin.
Mittens
Dark cranberry knit mittens. Connected with a 16" knit yarn cord.
See Also