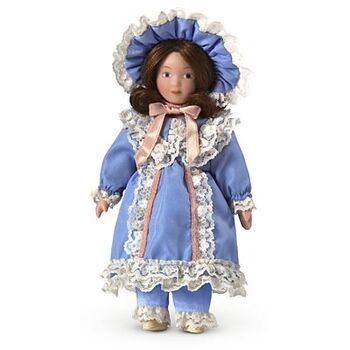 Nellie's Doll was introduced to Nellie's Collection in 2004 and retired in 2008 with Nellie's archival. Retail cost was $18.
Doll
The doll is made to resemble the fancy and classic dolls of the turn-of-the-century. She is made of porcelain at hands, head, and feet and has brown curls, painted brown eyes, and painted on shoes. She wears a hat, dress, and pantaloons made of blue "silk" trimmed in lace. The dress is also trimmed with peach ribbon.
The doll is first mentioned by Samantha Parkington in Meet Samantha; she asks Grandmary if she can have it. Grandmary says that the doll is quite expensive at six dollars[1] and that if Samantha is to be responsible, she must learn the value of a dollar. Samantha tries to ask about earning money but is told ladies don't earn money. Samantha goes back to her work, saying with a sigh that she would name the doll Lydia after her own mother. Grandmary becomes gentle and says there are other ways Samantha may earn the doll. She offers that if Samantha does her daily tasks well such as piano practice, she might earn the doll. Samantha indeed earns the doll through attending to her tasks such as sewing and playing the piano every day; the same day Jessie leaves, Grandmary has the doll left on Samantha's bed. Samantha immediately names her Lydia.
The next day when Samantha shows Nellie the doll, she is engrossed with it. Samantha wonders if it was wrong to let Nellie see the doll as it is quite beautiful. Nellie plays with the buttons on the shoes, the outfit, and the hat and ignores Samantha's fanciful ideas about Jessie's departure.
When Nellie is sent away by Mrs. Ryland, Samantha gives the doll to Nellie to be her friend. She is later questioned by Grandmary and says she lost it; Uncle Gard speaks up to say that the doll was given to Nellie as a gift to take back with her, showing that Samantha is quite responsible.
Lydia is next seen in Samantha Learns a Lesson when Nellie brings her to her first tutoring session. Lydia's dress is now wrinkled and worn, her hair is mussed, and her china hands and face are dirty. Samantha concludes that she must have been loved.
In Samantha's Surprise, Samantha makes a cape for Lydia as a Christmas gift for Nellie.
See Also
References