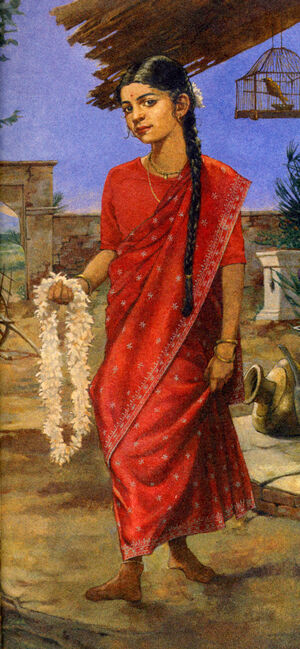 Neela Sen was one of the Girls of Many Lands, representing India during the struggle for independence from British rule. Neela Sen was released in 2002 along with Cécile Revel, Chou Spring Pearl, Minuk and Isabel Campion. She is the primary character of the book Neela: Victory Song.
Facts and Personality
Neela Sen is a twelve year old girl living in Bengal, India in 1939. She is independent-minded, and doesn't believe in her society's view of women and marriage. She is always in trouble for being a free spirit and wanting to make her own choices in life. She loves music and has a pretty voice. She also likes to sit and talk with the Baoul dadu who is a wandering minstrel. Neela is very much a "tomboy" who prefers climbing trees and fishing to dressing up in a fancy sari. Neela is not considered very domestic, but she shows true responsibility when it comes to caring for her cow, Budhi. She also loves her father and worries about him when he doesn't return from helping the freedom fighters in India. Neela is just as fascinated with her country's Independence as her father, which spurs her admiration of Samar, a young boy who joined the hostile freedom fighters of India.
Neela is very interested in the theater college in Calcutta. She also is interested in politics.
Book
Neela: Victory Song by Chitra Banerjee Divakaruni.
Doll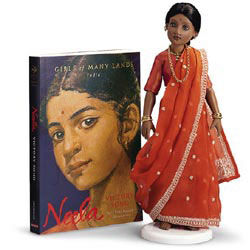 The Neela doll was intended for display only. Her dark brown hair came in a single braid down her back, she had brown eyes, and a bindi was painted at the center of her forehead. The components of her outfit were:
Orange iridescent midriff silk choli (blouse) with ribbon lace back; ribbon has clear gold beads at end.
Orange iridescent ankle length lehenga (petticoat)
Sheer chiffon orange sari with silver embroidery trim and flowers
White hair flower
Gold small loop earrings
Gold chain necklace
Gold pendant choker necklace
Gold wrist bangles
Silver ankle bangles
Trivia
Neela was the winner of the Oppenheim Toy Portfolio Gold Award in 2003.
Community content is available under
CC-BY-SA
unless otherwise noted.