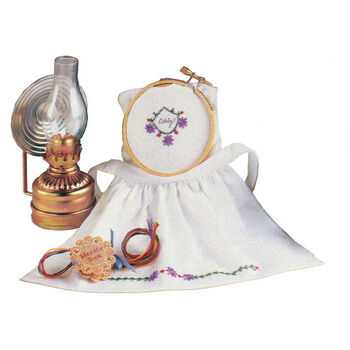 The Needlework Kit and Lamp was introduced to Addy's Collection in 1993 and retired in 2007. It is associated with the book Addy's Surprise. Retail cost was $16 and later increased to $18.
Apron
White bibbed apron. Has light green and black markings for embroidery. Velcros at back waistband.
Needle Book
Printed needle book in faux cross stitch. Ties closed with blue ribbon. Includes a functional needle.
Embroidery Thread
Embroidery thread in yellow, green, red, and lavender.
Embroidery Hoop
Wooden embroidery hoop.
Lamp
Plastic and metal "oil" lamp with moving wick. Comes with instructions not to light lamp and how to adjust wick. A version of this was later incorporated into Addy's Bedroom Accessories.
Instructions
Instructions for embroidering apron.
Trivia
See Also