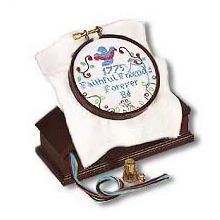 The Needlework Kit and Frame (also known as Felicity's Needlework Kit and Frame) was introduced to Felicity's Collection in 1992 and retired in 2001. It is associated with Happy Birthday, Felicity!. Retail cost was $22.
Stand
Dark wooden embroidery stand with two removable arms; a removable wooden spool, and two attached storage boxes to store the sampler, needle, threads, and thimbles. Both arms also have a removable attachment that contain a small wooden pin (to hold the sampler) and a brass tension screw (to allow the sampler to be mounted and removed from the stand). When the sampler is attached to the stand, both the spool and the two arms are hidden.
Sampler
Muslin sampler. Preprinted images of a bluebird, flower, and vines. Preprinted text reads "1775 Faithful Friends Forever Be."
Hoop
Wooden needlework hoop with brass tension screw; hoop holds muslin sampler.
Needle
Functional steel embroidery needle. Comes in a clear plastic case.
Threads
Six embroidery floss threads: blue, coral, light green, dark green, black, red.
Thimbles
One doll-sized thimble and one girl-sized thimble, both with matching decorative pattern. Brass.
Instruction Booklet
Black and white printed instruction booklet. Instructions include how to remove the sampler from the stand; how to remove and insert the sampler from the hoop; how to thread the needle; and how to create the varied embroidery stitches used in the design.
Community content is available under
CC-BY-SA
unless otherwise noted.